Keep your day job Graham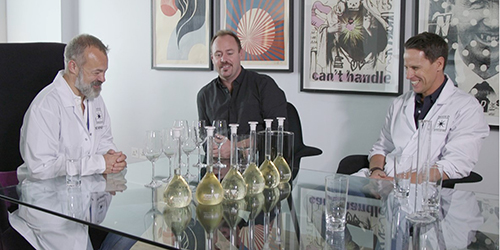 Graham Norton, with the help of Invivo Wines (tastings), has just released his own label Marlborough Sauvignon Blanc. Invivo co-founder, Tim Lightbourne, and chief winemaker, Rob Cameron, (pictured) took wine samples from six vineyards to the UK and nervously watched as Norton constructed his perfect blend.
The blending trial took several hours (you can see it on YouTube by clicking here). The final blend was from three out of the six vineyard samples. Norton commented, "That's it, my perfect blend … and its lovely, tropical fruit, a bit of zing … cheers to that!"
I've just tasted the wine which now retails for $18.99 at "leading outlets" throughout the country.
My comments: "Full-flavoured and reasonably soft Sauvignon Blanc with passion fruit, guava and other tropical fruit flavours. I find the sweetness just a little bit excessive. A rather old-fashioned, possibly "retro" might sound a bit better, style of Marlborough Sauvignon Blanc." I awarded it 89 points.
It's not a bad drop if you chill the brains out of it to cancel out a bit of sweetness by amplifying the acidity.