Vintage Mount Pleasant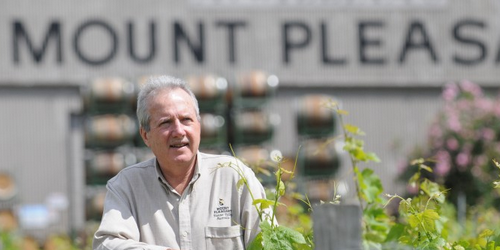 The former Mount Pleasant chief winemaker Phil Ryan (pictured) recently opened some old bottles from his private cellar, and invited a few members of the Fourth Estate to share them over a casual lunch in Newcastle. Ryan is on the tasting panel of Selector magazine and a chance conversation with members of the magazine's staff inspired him to open some of his old wines, before they got too old. 
Ryan worked for 48 years for McWilliam's, 35 of them as chief winemaker at the Hunter Valley winery Mount Pleasant (tastings), before his retirement three years ago.
We began with five Lovedale semillons, stretching back to the famous 1984 (tasting), the first wine to be labeled Lovedale. Corks play a wild-card role at this age, especially in white wines, and the first bottle was completely gone. The second was in superb condition, although starting its decline. My notes read: "Full golden colour with a lot of age showing. The bouquet is lovely and complex: vanilla, roasted nuts and lightly browned toast. Still very restrained, refined, delicate, finely structured and textured." The '02, '05 (tasting) and '07 (tasting) Lovedales were all outstanding.
Next came a run of five Rosehill shirazes and five OP & OH shirazes. The Rosehills were light and ethereal as these wines traditionally are (Len Evans thought the 1984 was a pinot noir when it was awarded a trophy in the Sydney Royal Wine Show). We tasted '84 (tasting), '87 (tasting), '91 (tasting), '05 (tasting) and '07 (tasting), and it was a shock to see the alcohol jump from 12.5% in the '91 to 15% in the '05. The '07 saw it drop back to a more reasonable 13.5%. Both were dark, rich, deep wines: a total reinvention of the style. "We were leaving the grapes out to get riper, and using special yeasts to have longer ferments," Ryan commented. I think the '07 is spot-on: a wine of depth, structure and richness but also moderate alcohol.
OP & OH is always a bigger wine, and the vintages '85 (tasting), '98 (tasting), '05 (tasting), '07 (tasting) and 2011 (tasting) were consistently superb, although the '85 was a lighter-framed, more traditional Hunter style. The '05 was magnificent and has at least 20 years left in it – but it is rather high alcohol at 15%. The '11 is also great, "from a year with a perfect ripening period" and just 13.5% alcohol.
As good as these wines were, the final bracket of Maurice O'Shea Shiraz comprehensively trumped them. The grapes come from the best part of Old Hill, the vines having been planted by the King family well over a century ago. The 1987 (tasting), the first O'Shea, released in 1990, is a profound wine still powering on at 28 years young. We also tasted the '91 (tasting), '98 (tasting), 2000 (tasting) and '07 (tasting). These are lush, glossy textured wines with a touch of chocolate and ample soft tannins.
The best of them all was the 2007, my wine of the day, a riot of black fruits, leather and chocolate, with great intensity and chutzpah. It's the kind of wine they'll be talking about way into the future, much as we discuss the 1965 Lindemans shirazes today. "2007 for me was the vintage of the millennium for Hunter reds," said the winemaker.
Well done, Phil Ryan!