Top Fizz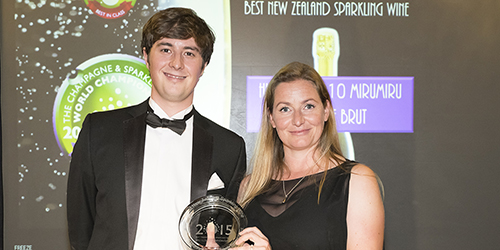 Congratulations to Hunter's (tastings) for producing Best NZ Sparkling and Best Value NZ Sparkling at the Champagne & Sparkling Wine World Championships. Both Mirumiru (Maori for "bubbles") labels are quiet achievers in NZ competitions so it's good to see them triumph at such a prestigious international event.
New Zealand's Gold and Silver medal list is as follows:
GOLD
Akarua 2011 Vintage Brut
Cloudy Bay NV Pelorus Brut (Best NZ Non Vintage Blend) – tastings
Hunter's 2010 Mirumiru Brut (Best NZ Sparkling Wine & Best NZ Vintage Blend) – tasting
Hunter's NV Mirumiru Brut (Best Value NZ Sparkling Wine) – tasting
SILVER
Before the awards ceremony Founder & Chair of the competition, Tom Stevenson, a man who has evaluated more bottles of bubbly than I've had hot dinners (literally), made the following controversial comments:
"New Zealand has so much sparkling wine potential, it should be as famous for fizz as it is for Sauvignon Blanc. Why isn't it? Marlborough effectively has two grande marque houses in residence: Veuve Clicquot and Mumm. Veuve Clicquot owns Cloudy Bay, which makes Pelorus, of course, but Clicquot is not in the business of using its brand for New World ventures. On the other hand, Mumm is.
Take Mumm Napa, for example. Pernod-Ricard, which owns Mumm, also owns Brancott, formerly Montana, which has sold Deutz Marlborough since long before Roederer took over Deutz. This is why you never see Deutz Marlborough outside of New Zealand, despite being one of the country's very best sparkling wines. You couldn't make this stuff up. Why doesn't Pernod-Ricard stop stifling its own sells, stop promoting one of its competitors and start exporting Mumm Marlborough? It even has a nice alliterative ring to it.
Why doesn't LVMH move Cloudy Bay from Veuve Clicquot to Estates & Wines, and start selling Chandon Marlborough? Why doesn't the entire New Zealand wine industry push tank-fermented sparkling Sauvignon Blanc? It's not rocket science. It would appeal to 9 out of 10 people who drink Sauvignon Blanc and 9 out of 10 people who drink Prosecco. It could be the next "Prosecco" and its quick turnover could be the cash-cow that would fund investment in classic brut style sparkling wine. When we see answers to all these questions, we might just begin to see this country realising its true sparkling wine potential."
Deutz Marlborough Cuvee (tastings) is sold in Australia and Hong Kong and tank-fermented Sauvignon Blanc has never been a truly successful style on the domestic market and I doubt it would fire at export unless the quality bar is raised significantly, but Tom's other comments make interesting reading.
*PHOTO: The Best New Zealand Sparkling Wine trophy was collected by Edward Macdonald from Hunter's Wines.