Sake dinner with Japanese Consul-General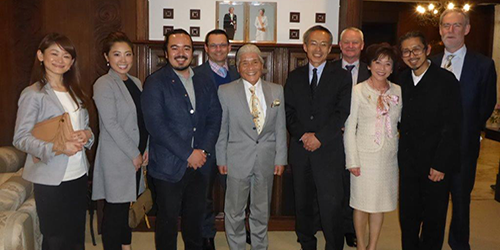 It's not every day one is invited to the Japanese Consul-General's home for a sake dinner. But, together with several other guests, I attended a magnificent meal cooked by the Consul-General's own private chefs and matched with sakes, which he had been sent from Japan, most of which are not available in Australia, alas. The Consul-General himself, Mr Masato Takaoka, is a lover of sake and seemed very knowledgeable on the subject.
Also at the table were three fellow journalists, fashion designer Akira Isogawa, Masterchef winner Adam Liaw and sake importer Yukino Ochiai, of Deja-Vu Sake Company.
The surprises were many. First up, many of the guests had never tasted a sparkling sake, and the unpasteurized Dassai Sparkling 50, by Asahi Shuzo from Yamaguchi prefecture, was a cloudy white in appearance with a vanilla, 'milk bottle' confection aroma, and was semi-sweet, effervescent and thoroughly seductive. Although there were seven sakes to work through with 10 courses, several of us returned again and again to this refreshing and delicious sake, and glasses were topped up frequently, making for a potentially dangerous scenario. It was served with oysters prepared in three ways, but was just as good on its own. The only drawback was its 16-17% alcohol, which wasn't apparent – hence the reference to danger.
My favourite of the still sakes was number four, the Takijiman Junmai Daiginjo, from Takihjiman Shuzo in the Mie prefecture. This had a note of licorice in its bouquet and a mouth-filling, superbly rich flavour that seemed to go well with every dish. It was 45% milled, meaning 55% of the rice grain had been milled away leaving 45% of the grain before mashing and fermentation.
A 'first' for me was a sake made from 23% milled rice. I can't recall ever having a sake more refined than 45% before, but here was a sake made from rice grains which had been 77% milled, leaving just 23% – pretty much just the inner kernel of pure starch. Not surprisingly, this Dassai 23 from the Asahi Shuzo brewery mentioned above, was very light-bodied and had relatively little flavour. I found it a bit bland, and not really up to the job of coping with food.
I recalled once hearing a knowledgeable Japanese reply, when asked what the best sakes tasted like, that great sake tastes very close to pure water. Very Zen! It was a slight exaggeration, but I now have a better idea of what he meant.