Sticky Heaven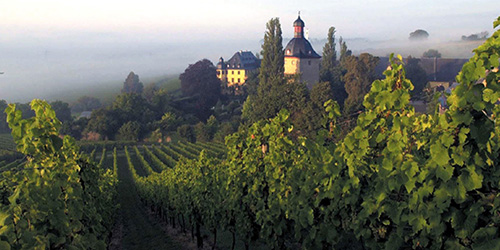 Sauvignon Blanc makers think like accountants, Pinot Noir producers are artists but it takes a gambler to produce botrytised sweet wines.
The three wine regions capable of producing high quality sweet wines in most vintages are Sauternes in France, the Mosel and Rheingau valleys (pictured) of Germany and Tokay in Hungary. They are all adjacent to water, either lakes or rivers. Moist air from the water creates good conditions for the formation of Botrytis mould in much the same way that mould grows on poorly ventilated bathroom ceilings. In a perfect vintage the sun will burn off the mist and slow the development of botrytis, which if it grows too quickly, could cause grapes to split and threaten the crop.
We don't have anywhere like that in New Zealand, which makes the production of high quality stickies a risky business. Too much moisture creates other undesirable rots. Too little and botrytis struggles to get a foot-hold.
Despite the vagaries of sweet wine production, New Zealand is capable of making world class wines – in favourable vintages.
Framingham's talented winemaker, Dr Andrew Hedley, is both a gambler and an artist. He is also very bright with a burning passion for making Riesling, especially sweet Riesling. Hedley is this country's uncrowned king of sweet wine makers. His wines rank among the best every year.
Hedley uses German terms to indicate relative sweetness. From the 2014 vintage Framingham made a Spatlese (60 g/l RS – tasting), Auslese (145 g/l RS – tasting), Noble (195 g/l RS) and Trockenbeerenauslese (295 g/l RS – tasting) Riesling. All brilliant!
Forrest Estate and Villa Maria seem to be able to make a top Botrytised Riesling (tastings) and Reserve Noble Botrytis Riesling (tasting) nearly every vintage with consummate ease. The same applies to Pegasus Bay with their luscious Aria Late Harvest Riesling (tastings) and super-luscious Encore Noble Riesling (tastings).
I am particularly fond of Mt Difficulty's Medium Target Gully Riesling (tastings), a wine that's not about botrytis but about purity and exquisite tension.
Varieties other than Riesling feature occasionally. Giesen The Brothers Late Harvest Sauvignon Blanc (tastings) demonstrates that this variety can perform with distinction given a little botrytis influence. The same applies with Margrain Chenin Blanc (tasting).