Gems from an Aussie cellar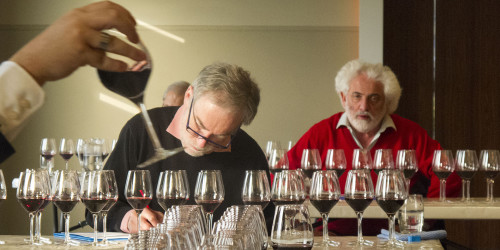 Photo: Huon (centre) judging at the Six Nations
During the Six Nations Wine Challenge in Sydney wine writer Huon Hooke, and his partner Cathy Abadie, invited the judges to dine at their Haberfield home.
When I'm asked what sort of wines I drink on a daily basis I respond with "leftovers". I'm fairly sure that Huon also picks the best and most interesting wine from his daily tastings to sip without spitting at the dining table. Hosting fellow judges at home is a chance to "clean out the cellar" in Huon's words. His generous wine selection comprised a carefully chosen collection of top Aussie labels mostly from the pre-screwcap era.
2002 Freycinet Radenti Chardonnay Pinot Noir, Tasmania
2001 Courabyra 805 Pinot Noir Chardonnay Pinot Meunier, Tumbarumba
1982 Seppelt Show Sparkling Burgundy, Great Western
2005 Tyrrell's HVD Vineyard Semillon, Hunter Valley
2002 Kilikanoon Mort's Block Riesling, Clare Valley
2000 Mount Mary Vineyard Chardonnay, Yarra Valley
2000 Mount Mary Vineyard Triolet, Yarra Valley
1998 Cullen Cabernet Sauvignon Merlot, Margaret River
Chambers Old Liqueur Tokay, Rutherglen
I never take notes at social situations such as this, but recall some truly splendid wines with Chambers Old Liqueur Tokay as a fitting climax to a great evening. Thanks Huon.
For the record, the menu was as follows:
Canapés
Peking duck pancake with spring onion, cucumber and hoisin sauce
Goat cheese and caramelised onion tart
Seared scallops with mirin and pickled ginger butter
Entrée
Char-grilled North Coast tuna steak on pearl couscous salad with pomegranate dressing
or
Green asparagus and fine herb salad with crisp shallots, caramelised walnuts and pesto drizzle [vegan]
Main course
Daube of beef with braised leeks and Dutch carrots, roast nicola potato and shiraz jus
or
Grilled field mushroom with chilli and lemon thyme polenta cake, cauliflower, ox heart tomato and kalamata olive salsa [vegan]
Dessert
Passionfruit crème brûlée with Cointreau-macerated strawberries
or
Tropical seasonal fresh fruits with lime sorbet and coulis [vegan]
Coffee, a selection of teas and petits fours