New Zealand gets some food for thought from Tom Stevenson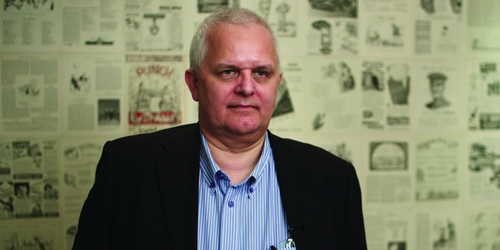 Founder and chief judge of the 2015 Champagne & Sparkling Wine World Championships, Tom Stevenson (pictured), had some thought-provoking words for the New Zealand wine industry at the awards presentation dinner.
Prior to announcing the New Zealand national champion, Hunter's 2010 Mirumiru Reserve, Stevenson sent a wake-up call to the Kiwis. He said:
"New Zealand has so much sparkling wine potential, it should be as famous for fizz as it is for sauvignon blanc. Why isn't it? Marlborough effectively has two grande marque houses in residence: Veuve Clicquot (tastings) and Mumm (tastings). Veuve Clicquot owns Cloudy Bay (tastings), which makes Pelorus (tasting), of course, but Clicquot is not in the business of using its brand for New World ventures. On the other hand, Mumm is.
"Take Mumm Napa, for example. Pernod-Ricard, which owns Mumm, also owns Brancott (formerly Montana – tastings), which has sold Deutz Marlborough since long before Roederer (tastings) took over Deutz. This is why you never see Deutz Marlborough outside New Zealand, despite it being one of the country's very best sparkling wines. You couldn't make this stuff up. Why doesn't Pernod-Ricard stop stifling its own sales, stop promoting one of its competitors and start exporting Mumm Marlborough? It even has a nice alliterative ring to it. Why doesn't LVMH move Cloudy Bay from Veuve Clicquot to Estates & Wines, and start selling Chandon Marlborough?"
Stevenson also had some advice for New Zealand re sparkling savvy.
"Why doesn't the entire New Zealand wine industry push tank-fermented sparkling sauvignon blanc? It's not rocket science. It would appeal to nine out of 10 people who drink sauvignon blanc and nine out of 10 people who drink Prosecco. It could be the next Prosecco and its quick turnover could be the cash-cow that would fund investment in classic brut-style sparkling wine. When we see answers to all these questions, we might just begin to see this country realising its true sparkling wine potential."
Now there's some food for thought.
The competition was in its second year and is arguably the world's most important venue for judging sparkling wine. The judges are Essi Avellan MW, Stevenson, and Australia's Dr Tony Jordan.
On the home front, Hardy's Arras Grand Vintage Brut 2005 (tasting) won the award for best Australian sparkling wine.
Champagne Louis Roederer Cristal Rosé 2004 was named Supreme World Champion, while Trentodoc (Italy) producer Ferrari collected a new award for Sparkling Wine Producer of the Year, in recognition of the company's achievement in collecting nine gold medals and seven best-in-class awards for its nine entries.
Also, Cuvage Rosé from Piedmont received the Chairman's Trophy, awarded for the most exciting classic brut-style sparkling wine produced from an indigenous variety – in this case, nebbiolo.
Eleven wines were unveiled as national champions. The other nine were: Canadian – Trius NV Brut; English – Nyetimber 2010 Classic Cuvée; French – Louis Roederer 2004 Cristal Rosé; German – Solter 2009 Rheingau Riesling Sekt Réserve Brut; Italian – Ferrari Perlé 2006 Trentodoc in magnum; Serbian – Trijumf 2009 Chardonnay Blanc de Blancs Extra Brut; South African – Avondale 2009 Armilla Blanc de Blanc Brut; Spanish – Segura Viudas NV Reserva Heredad Pinot Noir; and USA – Caraccioli Cellars 2007 Brut.
www.champagnesparklingwwc.com/results/results-2015