A match made in heaven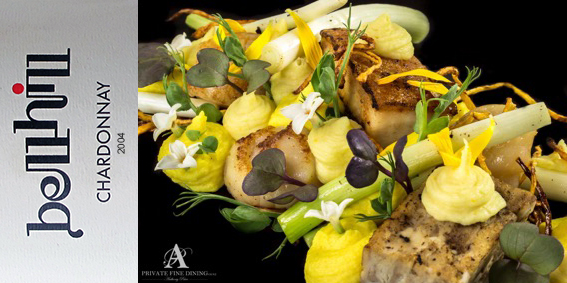 I recently attended a private dinner as a guest of Nanxi Chen and her husband. The meal was prepared by MasterChef finalist, Anthony Price, who did a brilliant job in preparing a seven course meal with every course a masterpiece. Find out more at www.privatefinedining.co.nz
I supplied wine for each course, but the irrepressible Nanxi also contributed a couple of mystery wines – a Méo-Camuzet 2006 Grand Echezeaux and a Destiny Bay 2008 Mystae (tasting).
It's hard to choose a highlight, but in terms of food and wine matching my favourite was roasted pork belly, seared scallop, pork shoulder terrine, garlic puree, sweetcorn puree, spring onion, pea tendrils, jus with Bell Hill 2004 Chardonnay, North Canterbury. It was a classic contrast match with the complex flavours of the dish amplified by the taut, pristine chalky/mineral characters of a fully mature Chardonnay.
On paper, I wondered how the Chardonnay was going to cope with the subtle sweetness in the pork and sweetcorn puree – but it worked brilliantly. The food maintained its own flavour integrity as did the wine, but together they produced a synergy that was really special.
2004 was the first commercial release of Bell Hill Chardonnay although modest quantities had been made in the two previous vintages. It was my last bottle of the 2004 but I have no regrets about opening it.