Missy French
Ah the father-daughter dynamic. What a mysterious, protean thing it is. Some days it's all daddy, daddy, daddy, the next it's "get over yourself". For an hour or so you're doing fabulously and then you mention her boyfriend's hipster beard and suddenly you're fire walking. 
And never think you've won the point just because she smiles and says nothing. You're in for a big fat surprise. Like when the subject of a career or that nebulous notion "the future" rears its pug-ugly head. So her mother wants her to be an exotic dancer. You'd like her to marry a clergyman and settle down in a small country parish. Everyone has an opinion. She just smiles. And then enrols herself in law school.
I wonder how much Neil Perry had a say in his daughter's decision to open a restaurant. Of course, he could tell her a thing or two about how tough the business is. But in the end, resistance – if there was any – would be futile. It's in the blood, she's going to do it with or without you, get out of her way,
And from what I've seen on recent visits, Missy French, er sorry, Ms Perry, is already getting a lot right. First there's the Grant Cheyne fit-out in white, with cool black and white tiles, a column or two and generously spaced, linen-set tables. The wide room is non-threatening and sufficiently restrained to let you know there's a budget, pitched to that interesting zone between bistro and fine dining.
I'm starting my night with an old-school Dubonnet ($18) (and wearing a kepi blanc in memory of the Algerian campaign), while the dining pal chooses a Vieux Carré ($18) to mark the 10th anniversary of Hurricane Katrina. Periwinkles, out of the shell and breaded, with a spoonful of parsley butter ($21) are a cute playback of escargots, if a little under seasoned; popcorn sweetbreads with a beurre noisette mayo ($21) is all deliciously crunchy nuggets with a soft, offally centre (I reckon popcorn sweetbreads deserve a wider audience than just the southern Creole states of the USA).
Then, a tasty confit duck leg en crepinette with beetroot and lentils is ($31), lushly rich and satisfying, but somehow it got tangled up with an egg that might have cooked a little longer; and the star of the table, a perfectly executed john dory grenoblaise ($36) covered in a classic sauce (capers, burnt butter and lemon). Great fish, great dish.
Missy French's wine list is thoughtful and intriguingly obscure in parts. Not too many bargains – scant reds under $100 – but also some great examples of groovy local wines including Barossa bio-dynamic producer Frederic Stevenson's very gluggable Grenache ($17 per glass).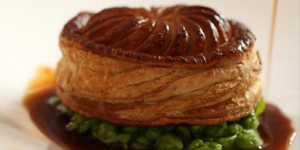 The vibe tonight is notably one-sided. We seem to be the only blokes in a dining room bursting with tables of beautiful Eastern Suburbs women and their glossy handbags. Well-heeled, well-fed and slightly frozen-faced, they're making purring sounds over the likes of a delicious rump cap napped with a bordelaise sauce (properly garnished with gems of bone marrow) ($39) and a well-made pithivier of pork with peas and veal jus ($29 – pictured) that seems to say "Bring back Robert Carrier".
Some of the young wait staff appear endearingly shy, but chef Chris Benedet (ex-Rockpool – naturally) and senior crew – general manager Andrew Johns and sommelier Lisa Sanders – ensure that grown-up comfort and hospitality are front and centre at Missy French.
Yes, I suppose I could sweat the small stuff with minor quibbles about the barely discernable print on the wine list or the lack of the 'bag' part for my doggy-bag. But if I did, I'm pretty sure Missy French would advise me to get over myself.
Missy French
Address: 22 Rockwell Crescent, Potts Point
Phone: (02) 8599 4912
Web: www.missyfrench.com
Open: Dinner: Monday – Sunday 6pm – 12 am. Lunch: Friday – Sunday
Price: E: $ 21; M: $ 36; D: $ 17
Rating: 14 /20
How good was the food? 3.5 /5
What was the service like? 3.5 /5
Did the atmosphere work? 4 /5
Is there an X Factor about this place? 3/5