Penfolds Collection release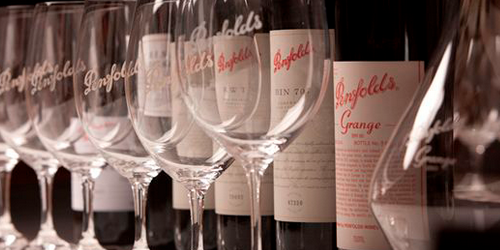 Last week's annual Penfolds Collection (formerly luxury and icon wines) release tasting was an eye-opener, and not only because of the new-release wines. It was the newly refurbished Penfolds Magill Estate restaurant and the adjacent newly built visitors' centre that stole the show.
Unfortunately I can't tell you about the wines for another three or four weeks, because of the embargo. But I can tell you there is a Grange (tastings). Some of us were wondering, as 2011 was such a terrible vintage weather-wise. Would there be a Grange at all? You may recall it was a summer and vintage when the rain simply didn't stop falling. What was the wine like? I'm sworn to secrecy, but stay tuned!
The new cellar door sales and tasting complex is very swish, and in pride of place is a showpiece Grange collection, which came from the personal cellar of Grange creator Max Schubert himself. It's housed in a special long, narrow, waist-high, glass-topped display cabinet, which is air-conditioned and looks as though a safe-cracker might have trouble opening it.
The same facility houses a casual restaurant called the Magill Kitchen. It's open for breakfast and lunch seven days a week. I couldn't get an answer as to which Penfolds wines they serve at breakfast.
Across the way is the Magill Estate Restaurant, with new fit-out, new chef, new somm (Patrick White, ex-Otto), new pretty much everything. If the lunch I was served is any guide*, the standard is high indeed. Local kingfish with ponzu, radish and turnip; salt-baked celeriac, spit-roasted chicken essence and Manjimup truffles; Barossa heritage pork with macadamia and pine-nut emulsion; Wagyu beef with spring's first peas and winter's last cabbage; baked cream ice-cream, sablé, pickled apple and muntries.
There is no embargo on the wines served with lunch, so I can say that the 2008 Yattarna (previous tasting) is in great nick and went quite well with the kingfish; the 1996 Block 42 Cabernet Sauvignon (in magnum – previous tasting) is showing superb matured complexities but still has plenty of fruit and aging left to do, and the 1990 Bin 920 Coonawarra Cabernet Shiraz (previous tasting) is a beautiful wine, fully mature and starting to hit its peak. As for the 1955 Grange (previous tasting) served with the chicken essence, one bottle was sheer magic. At its best, this is one of the very greatest Granges, along with 1953 (tasting) and '66 (tasting). Two other bottles opened were disappointingly passé. The older cork-sealed wines get, the more of a lottery it becomes.
Footnote: Penfolds chief winemaker Peter Gago raised the question of whether the next vintage, 2016, would fit the pattern of vintages ending in 6 being outstanding. He cited '66, '76, '86, '96 and '06.
Lay your bets now…
*Disclosure: I and a scrum of other scribes were Penfolds' guests.