Yalumba's stunning Shiraz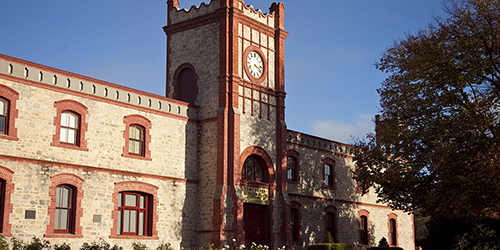 Yalumba (tastings) over-delivers on their Shiraz at every price point. Whether it's their exalted Octavius Shiraz or the inexpensive Y-Series Shiraz, their range of wines offer remarkable value.
I recently tasted a reasonably extensive range of Aussie reds and the Yalumba wines, particularly their Shiraz, were stand-outs. It makes shopping easy. Feel like sinking our teeth into a good Shiraz? Simply walk into a wine shop and seek out a Yalumba wine at an appropriate price. You won't be disappointed.
Check out these examples, all priced under $25. Yalumba 2013 Patchwork Barossa Shiraz is a dense, flavoursome wine with bright plum, dark berry and cherry flavours plus vanilla and mocha from oak maturation. Rich, chewy Shiraz in a bold and appealing style. It's a classic Barossa style that delivers oodles of flavour and a drop-dead texture for a modest $24.95.
If you prefer a more supple, scented, silky and perhaps "modern" Shiraz try Yalumba 2010 "The Guardian" Shiraz Viognier (tasting). I love its red fruits, plum, raspberry and sweet vanilla, chocolate oak characters plus a suggestion of floral and honeysuckle. Also at $24.95. A bargain!
Yalumba 2012 Galway Vintage Barossa Shiraz (tasting) is arguably an even better buy. Crowd-pleasing Shiraz in a medium-bodied style with a silken texture. Typical varietal and oak flavours of plum and choc/mocha. It screams out "Barossa". A snip at $19.95.
Finally, $17.50 buys the 2013 Y Series Shiraz (tasting). Tasted blind I expected this wine to retail in the $25-35 range. It's got plenty of varietal plum and berry flavour plus a solid oak influence that adds extra complexity. Another top buy that you can afford to splash into the lamb shanks as well as a large glass.