Wine gadgets – iSommelier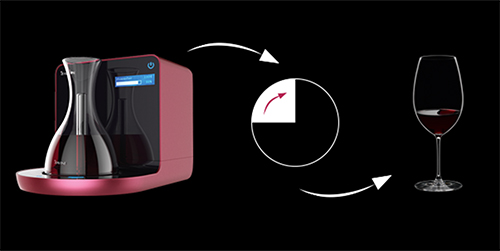 I recently test drove an iSommelier, a futuristic machine that pumps oxygen into wine to speed up the aeration process. In just a minute or two the wine tastes as though it has been decanted for an hour or so. You can "dial up" whatever decanting time you think the wine deserves, taste it and give it a little more air time if you think it's needed.
The high-tech machine even works remotely from a phone app – a refinement that has a "show-off" factor but didn't seem to be very practical.
I first tested it on a four year-old Riesling under screwcap. I asked the operator to set up a triangular tasting – two glasses of one sample and one glass of another. There didn't seem to be any discernible difference. Next we tried it with a young Central Otago Pinot Noir under screwcap. Again, no difference, even when we aerated it for a second time.
There was a significant difference on a third wine, a gutsy 2013 Bordeaux blend from Hawke's Bay that had been sealed with a cork. The aerated wine was clearly softer and appeared to have more flavour.
The machine could work well in restaurants where there is seldom time to properly aerate big reds. I would certainly choose to have any gutsy red put through an iSommelier if I were given the option. I am sure that a few wealthy wine enthusiasts will also buy the machine, although at $1,200 – $2,000 depending on the model I'll stick to my trusty Spiegelau decanter.