NZ wins Six Nations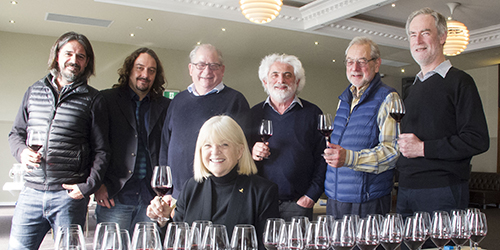 (The Six Nations Wine Competition judging team)
After three days spent judging around 600 wines we've got a result, and it's a good one for New Zealand. We won five out of the 16 classes as well as country of the show. That's great news for New Zealand's winemakers and especially good news for those whose wines were chosen to compete in this Olympian event.
It works like this. A selector/judge from Australia (Huon Hooke), NZ (me), South Africa (Michael Fridjhon), Chile (Eduardo Brethauer), Argentina (Fabricio Portelli) and the US (Dan Berger) each select the top 100 wines form their country. It must be stressed that the entries are by invitation only.
The wines are shipped to Sydney where they are sorted by class (e.g. Chardonnay, Sparkling etc,) and poured blind by a team of highly efficient Australian Sommeliers. We then each taste and rate the wines. The scores are fed into a computer so that class winners and "best wine in class" can be decided along with Wine of Show, Top White and Top Red.
The full results won't be revealed for at least another month but we were given the name of the country that produced the top wine in each class and the fact that New Zealand was the overall winner:
1. Sparkling (Australia)
2. Riesling (Chile) – NZ has done well in past shows, but not this year.
3. Aromatic whites – (NZ) – Gewurztraminer
4. Sauvignon Blanc – (NZ) – that's a relief!
5. Chardonnay- (South Africa)
6. White blends – (South Africa)
7. Other white varieties (South Africa)
8. Pinot Noir – (US) bugger!
9. Merlot – (Chile) Not surprising although we won it last year.
10. Malbec – (Argentina)
11. Syrah/Shiraz – (US) NZ has won this class seven times in 13 years
12. Cabernet – (US)
13. Other Reds – (South Africa)
14. Bordeaux blends (NZ)
15. Red blends (NZ)
16. Dessert wines (NZ)
TOP COUNTRY OF SHOW – (NZ)