Trial by Tannin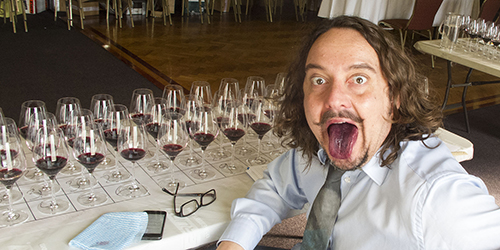 Having just sniffed, slurped and spat 600 wines in three days at the Six Nations Wine Challenge I think I should alert readers to the downside of judging.
The photo above shows Chilean judge, Eduardo Brethauer, displaying the nasty effects that 60 Bordeaux blends can have on the tongue. The tannins in a class like that make my mouth feel as though I am on the verge of death by dehydration in the Sahara dessert. To make matters worse conventional dentist wisdom suggests that it is damaging to brush your teeth for at least 24 hours after the tasting. Wine softens teeth enamel, for a short time at least.
The only thing more painful than tasting a large class of big reds is an equally large class of high-acid whites. After slurping 60 Sauvignon Blanc samples my teeth hurt … a lot! To give judges a break from tannin or acid most wine shows alternate a class of white wines with a class of reds. It helps.
The most wines I've tasted in a short space of time was 4,000 in ten days at the International Wine Challenge in London.
The most galling thing of all is when, at the end of a long day when I'm feeling completely stuffed and sensitised, a passer by will say, "Wow, you've got a great job!"