My Sherry amour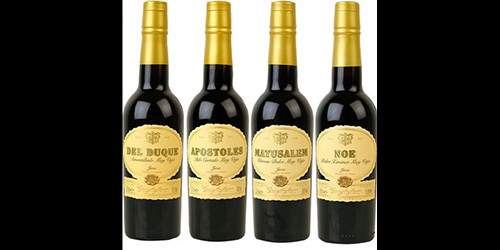 During a comprehensive tour of the wine regions of Spain in 1996, I tasted a wine that I will never forget. It was while visiting the famous sherry firm Gonzalez Byass in Jerez that I tasted their 1964 Anada Oloroso.
Vintage sherry is quite a rare wine these days. Before the solera system, in which many vintages are blended to create a consistent wine, was invented in the 18th century, though, most sherry was actually vintage dated.
In 1996 the '64 was a mere stripling at 32 years old, most of that time spent in cask before bottling. I remember Gonzalez Byass (tastings) made a special fuss about this wine: they had only started releasing vintage wines a year before, and the '64 was only the third vintage released. It was in a beautiful old Jerezana bottle-shape (from the 1850s) with front and back hand-written, numbered labels that resembled parchment, its neck dipped in red plastic to seal the cork from the air.
The wine was a knock-out: tremendously complex and loaded with wood-aged characters reminiscent of various nuts and dried fruits. Like most true Spanish olorosos it was fairly dry: nothing like Australian oloroso, which is always sweet. I remember the wine cost me the equivalent of A$100 at the cellar door shop, a sum of money I'd never spent on a single bottle of wine before. So I was a bit anxious about the purchase.
Packed in its wooden box with sliding lid, this bottle was mollycoddled all the way home. I then kept it for several years in my cellar before finding an appropriate occasion to open it. It was just as splendid as in Spain.
Recently, I was lucky enough to drink this wine again. It was in great condition and didn't seem to have aged much. It's nearly 51 years old, and I can imagine it continuing to drink superbly for at least another decade. The flavour was explosive and sensationally complex, finishing dry and savoury, with magnificent balance and persistence.
It was the final dry style in a sherry dinner at Fix St James restaurant, at which our generous host served no fewer than 14 sherries from his own cellar. One of the dinner table conversations was on the subject of value-for-money. Great old sherry is not cheap, but it is remarkable value for money when you compare it to some of the fashionable young red and white table wines which are often very expensive despite being released very young. Gonzalez Byass's top commercial sherries, Matusalem Oloroso and Noe Pedro Ximenez are bottled at well over 30 years average age, and they are great wines, and very reasonably priced at $170 a bottle or $98 a half-bottle. In the same series, Del Duque Amontillado and Apostoles Palo Cortado are $110 a bottle or $50 a half.
The Anada wines, if and when they're available, retail for $300.
Considering their antiquity and rarity, to say nothing of their quality, all of these sherries are very good value. And more reliable, I daresay, than new releases from many fancy-name Burgundies and Bordeaux priced substantially higher.
Our dinner began with fino and concluded with Matusalem Oloroso Dulce (tasting) and Noe PX. It was not a PR event but all the wines were Gonzalez Byass, which served to showcase just what an extraordinary wine company this is. We were spoilt with no less than four of the Anada wines, two palo cortado ('82 and '78) and two oloroso ('69 and '64). All were great, but on this occasion, the '64 was best. A wine that will live with me for the rest of my days.
Gonzalez Byass wines are imported by Broadway Liquor, of Sydney. They can also be purchased from the company's retail shop, Broadway Cellars, at 96 Glebe Point Road, Glebe.
*First published in Gourmet Traveller Wine magazine, June-July 2015.