Palate cleansers – cheese and apple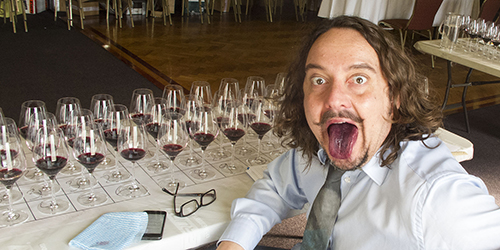 "Buy on apple; sell on cheese" is an old wine-trade saying from the distant past. Wine merchants would cleanse their own palates with fresh apple while they were tasting with a view to buying wine for their own businesses. Apple refreshes and sharpens the palate. But if the same merchants were selling wine to their customers, they would feed them cheese.
Cheese tends to have the opposite effect to apple: it can dull the palate. If the merchant was less than scrupulous, he (they were all blokes in those days) might hope the cheese would render the client less critical, and more susceptible to falling for a less than perfect wine.
Cheese, of course, is a great accompaniment to the enjoyment of wine, especially red wine. Cheese can also have a useful effect if you're tasting large numbers of young red wines, as I was doing recently in the Six Nations Wine Challenge. With my five fellow judges, Eduardo Brethauer from Chile, Fabricio Portelli from Argentina, Michael Fridjhon from South Africa, Dan Berger from the USA and Bob Campbell from New Zealand, I ploughed through about 90 cabernet sauvignons and cabernet-based reds in one day.
It was hard work, and the tannin build-up on the tongue made the task even more taxing. It's a good idea to take a number of short breaks from tasting, to rest the tongue, and aside from rinsing with fizzy water and chewing green olives, I sometimes eat a small piece of hard cheese before taking a rest. The protein in the cheese helps clean the tannins off the palate. But it's important not to eat cheese too much or too often, for fear of the dulling effect.
The picture shows Eduardo's severe case of Cabernet Tongue!