New Penfolds Wine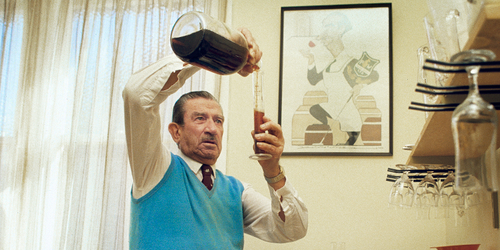 The new Penfolds The Max Schubert Cabernet Shiraz has sneaked onto the market with absolutely no fanfare. That's appropriate: Max himself (pictured) probably wouldn't have wanted a wine named after him. Neither would he want a fuss made about it. No doubt Penfolds has been gestating this wine for some time, but it caught everyone by surprise. It's been a well-kept secret.
The wine is a 2012 made from majority (61%) cabernet sauvignon blended with 39% shiraz, sourced from Barossa Valley and Coonawarra, the same regions and varieties as Schubert's most famous wine, Penfolds 1962 Bin 60A (tasting).
The release timing is highly significant. This year is the centenary of Schubert's birth. And the fact that this wine's vintage comes precisely 50 years after the 1962 Bin 60A is also a nice symmetry. The 1962 vintage was one of the best in the history of Australian wine; 2012 will go down as another. The wine is a cracker, as you might expect. Its retail price of $450 is high, but nowhere near as high as Grange, Schubert's most famous continuing creation.
The wine is great, and very much a Penfolds wine (tastings). I drank some with friends alongside a mature Grange (1983 from magnum – tasting), and the family resemblance was apparent. Of course, the Schubert has been made in a more polished, modern Penfolds style, with less-obvious and finer quality oak (although it's still American, like Grange) but I have no doubt that it will age for a good 40 years or more like a good Grange, and provide glorious drinking from now till then.
The late Max Schubert AM was Penfolds' chief winemaker from 1948 to 1975, and had a profound impact on the style and quality of the company's wines.