New old vine wine for Turkey Flat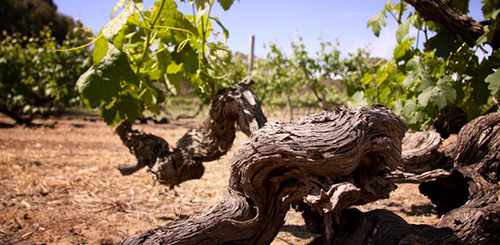 (Turkey Flat's 1847 vines)
Old vines don't necessarily produce the greatest wines. Some ancient vineyards yield truly great fruit when they're on song, but sometimes that only occurs every few years. Last week's newsletter mentioned Baileys 1904 Shiraz, which is rarely good enough for a separate wine. Before the 2013 (tasting), the last release was the 2005 vintage. 
Turkey Flat's new The Ancestor 1847 vineyard shiraz (tasting) is a similar story. It's not going to be an annual release. The vineyard is ancient, but it's located in a flat, low-lying site beside Tanunda Creek. Not the best situation. But when the wine does hit the heights, it can be sold for a pretty price because there is a market for small editions of wine made from rare, extremely old vines, however illogical that may be.
The Turkey Flat wine, from the 2012 vintage and priced at $150 (gift-boxed), is a blinder. It doesn't have an explosive bouquet but the palate is sensational, with the lush, velvety texture, impeccable balance and very long persistence that the best old-vine wines possess. The vines were planted by Johann Frederick August Fiedler, who had settled the property, Lot 1 in the Hundred of Moorooroo, in the 1840s. He is said to have planted no fewer than 72 grape varieties, to see which would thrive best in this new land.
Turkey Flat was acquired by the present owners, the Schulz family, in the 1860s and they established a successful butchery. The butcher's shop, and even the butcher's wooden block, are still there today.
The wine from the 1847 block normally goes into the regular Turkey Flat Shiraz, an excellent wine in its own right. But, in the 2012 vintage, 'an exceptional year by anyone's standards' according to the label, with lower than average yields, no disease, ideal ripening conditions and a slow, steady harvest in which each parcel of fruit could be given full attention, the ancestor vines produced 'the most exemplary fruit'. The decision was made to honour the vintage, and the vines, with a special wine. Only 450 bottles of The Ancestor were produced. If you want some, it's best to go direct to www.turkeyflat.com.au.
No doubt the fact that it won't be made every year will make it even more desirable.