Vodka, caviar and Dan Aykroyd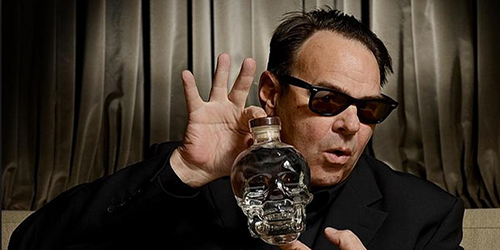 I've always been skeptical of matching distilled spirits with delicate foods, so it was with some curiosity that I approached the caviar stand at the recent The 3 Winos trade tasting in Sydney. The 3 Winos is a trade day with a difference: Winestock, World Wine Estates and Combined Wines & Foods hire the mezzanine level of the Four Seasons Hotel and their winemakers line up to pour tastes of all their wines. There is marvelous food and entertainment, masterclasses, Dr Hooke's Wine List Clinic (moi) and lots of colour and movement.
My keenness to ingest a few sturgeon eggs easily overcame my indifference towards vodka. Due to bad timing on my part, I missed meeting the founder and owner of the Crystal Head vodka brand, American actor and entertainer Dan Aykroyd (and I'm one of The Blues Brothers' biggest fans), but out among the wine and food stalls I tripped over a seven-foot tall super-model doling out free fistfuls of Iranian caviar. Hard to ignore.
She spooned a generous portion of caviar onto my fist and asked me wait till it was no longer cold before licking it off my hand. (That's me who licked it off, not her.) I followed it with a slug of Crystal Head's new Aurora vodka, and it was good, but I couldn't shake the suspicion that a sip of the Laurent-Perrier Grand Siècle Champagne from the Winestock stall behind me would work even better. I begged the supermodel for another lick, and wouldn't you know it, I saw stars.
I'm no expert on vodka, but I can say the current Grand Siècle is superb. At least to my palate, it's an even more heavenly match with caviar than vodka. And excuse me for saying, but a bottle shaped like a skull is a bit gross. Sorry, Dan, I guess I'm not your target market anyway.
Crystal Head Aurora is $105 per 700ml; distributor is Combined Wines.