Marlborough Pinot Noir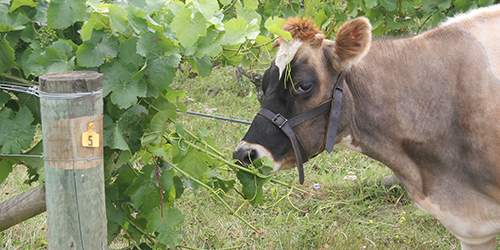 (Seresin's cow in the vineyard)
Nobody remembers who came third in athletics or even a World Cup for that matter. The spotlight is firmly on the winner with minor illumination on the second place-getter. So it is with wine regions.
Which wine region makes New Zealand's top Pinot Noir? Most would put their hand up for Central Otago with Martinborough coming a distant second. I'm talking about popular vote, not my personal favourite.
The point is that Marlborough is never in the hunt despite having a larger area of Pinot Noir vineyard than almost all of the other regions put together. There are a number of reasons why Marlborough is unlikely to wear the Pinot Noir crown in the near future. The region got off to a slow start by planting Pinot Noir in soils that were too light to produce wines with any power. That changed when winemakers figured that the clay rich spot at the foot of the Wither Hills in the Southern Valleys was the Pinot hot spot. Since then other good areas have been prospected including some likely land in the Awatere Valley.
Think of Marlborough, think of Sauvignon Blanc. The region's success with Sauvignon has diminished its success with other varieties, including Pinot Noir. A recent tasting of 78 Marlborough Pinot Noirs revealed a wealth of excellent wines in a surprising variety of styles.
Seresin 2012 Sun & Moon $135, 97 points (tasting) occupied top slot in the tasting while this producers other labels also performed well. That's a vote for organic/biodynamic production – I swear I could taste the richness and savoury complexity that had sprung from a bio-diverse vineyard.
Giesen's 2012 Clayvin Vineyard Pinot Noir (tasting) and Giesen 2012 Ridge Block Pinot Noir (tasting) are leading the charge as this large Marlborough producer sets its sights on the highest quality segment, Auntsfield 2013 Single Vineyard Pinot Noir (tasting) and their intense Road Ridge 2012 Pinot Noir (tasting) are also among the best while Villa Maria 2012 Southern Clays Pinot Noir (tasting) and their 2012 Seddon Vineyard Pinot Noir (tasting) continue to remind me that this remarkable company is a high achiever with just about every grape variety that matters.