Croser's back in control of Tapanappa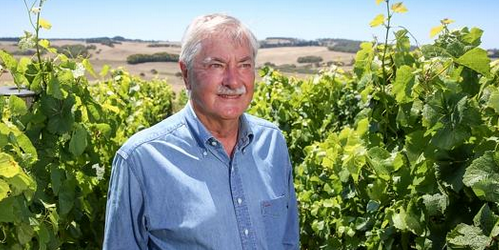 Champagne Bollinger (tastings) and the Cazes family of Bordeaux have sold their Tapanappa shares to the Croser family. The change coincides with the Crosers being back in control of the former Petaluma winery in the Adelaide Hills, which Brian and Ann Croser established in 1978.
Brian Croser (pictured) says Petaluma (tastings) handed back the winery in the week before Christmas and the Crosers had to frantically refurbish and re-equip the place in time for a very early and compressed 2015 vintage, which began in mid-February.
"We are very grateful for the involvement of these two great wine families in the creation of Tapanappa and we remain very good friends," Croser said. "The Tapanappa brand and our three distinguished vineyards now belong to the Croser family."
The Tapanappa brand (tastings) is managed and distributed by daughter Lucy and her husband Xavier Bizot. Distribution through their business, Terroir Selections, completes the vertical integration of Tapanappa as a single family wine company, said Croser.
Tapanappa also has a cellar door. As Croser puts it, after 37 years of avoiding having a cellar door sales at the winery, in Spring Gully Rd, Piccadilly, one now exists. It's open Thursday to Monday from 11am to 4pm.
"Finally, it is wonderful to have my old friend Con Moshos back running the winery operations," Croser writes. "He doesn't like to be reminded but he began at the Petaluma winery mowing lawns in 1980 and became head winemaker in the '90s. After a 10-year term in the Eden Valley (at Mountadam) he too is back in the winery."