Dalwood Estate's future in doubt again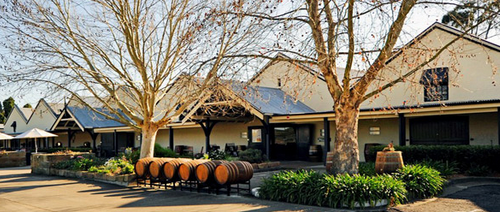 The future of historic Hunter Valley vineyard and winery Dalwood Estate, formerly Wyndham Estate (tastings), is in doubt again, following the announcement that it is for sale. The property's present owner, Pernod Ricard, closed it down as a working winery many years ago, and closed the cellar door last October.
The 104-hectare property, which fronts the Hunter River at Branxton, was one of the first commercial vineyards in Australia, planted by George Wyndham in the early 1800s. Brian McGuigan, who owned the property in the 1970s and '80s and used it as a springboard to launch Wyndham Estate, has said he would love to own it again, but there is no immediate sign of that happening.
These days, Wyndham Estate is just a brand, produced out of Pernod Ricard's South Australian operations which centre on Jacobs Creek (tastings) in the Barossa Valley. They still have some Hunter Valley wines, but Wyndham Estate is no longer a regional brand.
The following appeared in the Singleton Argus a few days ago. http://www.singletonargus.com.au/story/3263820/dalwood-estate-for-sale/