Main Ridge changes hands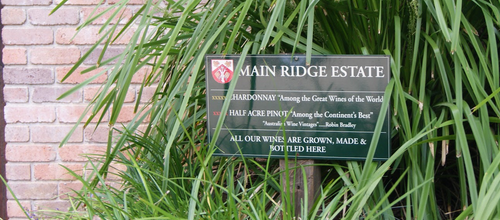 Main Ridge Estate (tastings) is changing hands, after 40 years of ownership by the founders, Nat and Rosalie White. The iconic Mornington Peninsula winery has been bought by a Melbourne family, Tim and Libby Sexton, and their son James Sexton – a sommelier – who will manage it and make the wine. James is currently doing the wine science degree course at Charles Sturt University with a view to his new career in viticulture and winemaking. Nat will continue as consultant so there will be a smooth transition in vineyard and winery.
James Sexton is a graduate of the Blue Mountains International Hotel Management School and has worked in hatted Sydney restaurants Est, Sepia and Oscillate Wildly. As family spokesman, he said: "We are delighted to accept this once-in-a-lifetime opportunity to develop the next chapter in the history of one of Australia's most respected small wine estates. Nat is both a pioneer and a perfectionist who has created a reputation as a generous and inspirational adviser to aspiring winemakers. I am thrilled at the privilege of mentorship by one of the best in the business."
Main Ridge Estate produces just pinot noir and chardonnay and the wine has always been 100% estate-grown. The Whites' ruthless pursuit of excellence is evidenced by the fact that the entire pinot noir crop from the wet 2011 vintage was discarded.
A rare gesture accompanied the announcement. The Whites sent a public message headed 'Retrospective', thanking Australia's wine journalists for their encouragement, interest and support over 40 years. This is a rare thing to behold: in fact, I have never witnessed anything like it before. A great deal of free publicity is given to wine producers, many of whom take it for granted, and some believe they are entitled to. The wine press doesn't seek any thanks – we are just doing our job – but it is refreshing to see wine producers grateful for the support freely given by the wine press.