Baileys of Glenrowan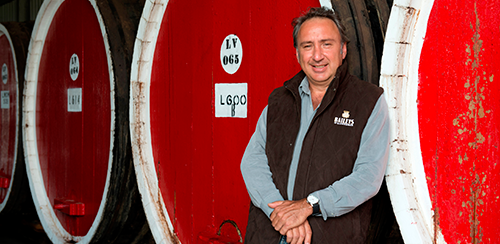 Baileys Bundarra vineyard at Glenrowan is an old winery (established in 1870) that has great memories for me. While living in Albury and working on the Albury Border Morning Mail newspaper, I frequented the district's wineries, and my friends and I used to buy flagons (yes, flagons!) of Baileys tokay and muscat, it was such great value.
The reds were best described as ferruginous. Big, powerful, dark, tannic wines which seemed destined to live forever. Glenrowan Is of course famous as the scene of Ned Kelly's last stand, and there seemed to be a touch of defiance in every bottle. "Red with a touch of Ned" was a headline I remember on a wine column of the day. The celebrated Melbourne columnist and one-time vineyard owner Keith Dunstan once described Baileys reds as 'liquid steak and eggs'.
They've always been heroic reds but these days they're better than ever. The five shirazes from the excellent 2013 harvest that I tasted recently are superb, the two top wines, the Varley (named after the founder, Varley Bailey – tasting) and the 1904 Block (from the property's oldest shiraz vines – tasting) are simply spectacular. The pity is they're very limited production and only available ex-cellar door. The 1920s Block Shiraz ($45 – tasting) is also very good. Then there's the regular shiraz (tasting) and an organically grown shiraz (tasting), also good in their stations.
The very old vines at Baileys produce inconsistently but at best, yield small crops of small bunches with very intense flavour.
The 1904 Block isn't made every year. It's dry-grown, and is the oldest block on the vineyard. The 2013 is the first release of this wine since the 2005, and just 166 cases were produced. It sells for $95 at the winery. The wines are all open fermented and basket pressed.
The Varley Shiraz is my pick, by a bee's whisker from the 1904 Block. It's just so concentrated, yet soft, dense and fleshy with an incredibly long finish. The grapes were a selection of the best from the vintage, from various blocks. A single 2800-litre vat was produced – so potentially, 311 dozen – and it's $75 ex-winery.
Baileys is owned by Treasury, which just recently took the winery and vineyards off the market. They had been for sale, along with T'Gallant (tastings) on the Mornington Peninsula. Treasury has been trying to sell assets in various regions, and did succeed in selling the Rosemount (formerly Ryecroft) McLaren Vale winery. It's probably good news that Bailey's has been taken off the market. There is considerable value in the assets, the 143 hectares of vineyards, the heritage, and – although he's not nailed down to the place – the talented and committed winemaker, Paul Dahlenburg (pictured), who has been at Baileys for 19 years.