Wine on tap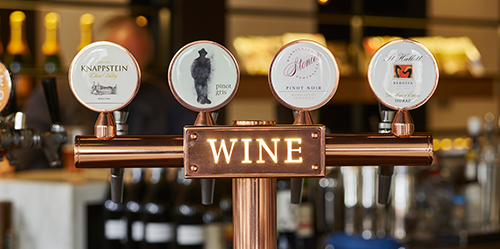 Restaurant by-the-glass wine has long been a bugbear of mine. Although I plead guilty to having helped promote it, as chair of the Wine List of the Year awards for many years, I'm in two minds these days: I often order BTG wine and often find it stale. I normally find the waiter is happy to open a new bottle when I challenge the freshness, but what happens to clients who aren't as experienced or confident about wine? Some probably just think it's a crook wine.
So I was keen to test-drive the new Wine On Tap system being promoted by the grog distributor Fine Wine Partners. FWP distributes St Hallett (tastings), and I met St Hallett's winemaker Stuart Blackwell at FWP headquarters in Sydney, seven floors up in the CBD in a scarily modern glass and metal building. FWP has a Wine On Tap system installed in its bar (oh to work in an office building with its own bar!).
At customer-level, it looks similar to a beer dispensing set-up. All shiny stainless steel and little discs identifying the wine in each tap. The wine is temperature controlled and the cooling takes place in the dispensing unit.
The German-designed Key Kegs are not solid metal: they're basically a smarter, larger version of the bag-in-box, and the theory is that oxidation can't happen because the bag collapses as the wine is used, and there is no vacant space full of air or inert gas. I'm a born sceptic, and I don't really believe any inert gases keep wine fresh. So a collapsing bag (a new slant on 'vino collapso'?) appeals to me.
We were originally scheduled to meet at the Coogee Pavilion, which is the number one seller of Wine On Tap. We probably should have stuck to the plan, because the St Hallett wine Garden of Eden Shiraz (an on-premise-only brand) was not very fresh. We compared it to a newly-opened bottle of the same wine and the bottle was much cleaner, brighter and fresher with lovely spicy Eden Valley shiraz aromatics.
Stuey Blackwell was a touch embarrassed, and I believe him when he says the wine is normally fresher and the problem was that the keg in the FWP office doesn't get enough use. This results in the wine in the line (beer-keg plastic tubing) losing its freshness. However, even after running a few glassfuls through the system it wasn't much better, so maybe the keg was getting low, or maybe – as Stuey suggested – the plastic lines needed replacing.
Anyhow, I am a fussy bastard, and in fact the wine was quite drinkable, in spite of my comments about freshness. Not being a frequenter of the Coogee dining scene, I might take a while to catch up with it there. A few other pubs and bars do have it, Sixes and Sevens in Brisbane, 2KW in Adelaide and the Coppersmith Hotel in Melbourne. The number is set to grow.
The Coogee Pavilion is a large venue with 15 taps, all serving wine from wineries represented by Fine Wine Partners. Other wines available in the kegs are Stonier's Pinot Noir (tastings), Petaluma White Label Chardonnay (tastings), Knappstein Riesling (tastings), Innocent Bystander Pinot Gris (tastings) and Wither Hills Sauvignon Blanc (tastings).
The Key Keg contains 30 litres or 200 regular pours of 150ml each, and remains fresh (allegedly) for a month after tapping. Two extra benefits of the technology when compared to glass bottles, are less wastage due to oxidation of wine and less packaging material used. The kegs are 100% recyclable, and Stonier winemaker Mike Symons estimates the saving for his pinot noir alone to be six tonnes of packaging per 1,000 dozen bottles. In the next two to three years he hopes to save 30 tonnes of packaging.