Martinborough Pinot Noir is hot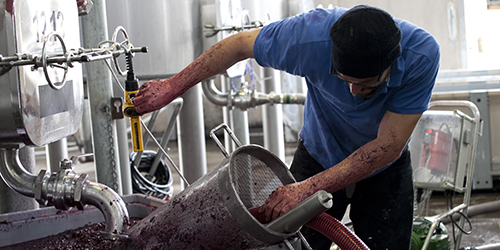 Martinborough invented top Pinot Noir and occupied top slot until the brash newcomer, Central Otago, snatched the regional crown from its head quite a few years ago. Wine enthusiasts continue to compare and debate the merits of both regions.
After tasting a range of super classy Martinborough Pinots from the excellent 2013 vintage I'd have to say that the region is in fine form and may even deserve to regain its lost crown. A handful of 2014 wines suggest that it too has been a stellar season.
You'd expect Pinot Noir from a relatively small area of gravelly river terrace to offer a fairly consistent style. That was once the case but in recent years Martinborough Pinot Noir has become stylistically diverse. The differences are less to do with aromatics and more to do with intensity and structure.
Viticultural and winemaking techniques, particularly cropping levels and the increasing use of whole bunches during fermentation, have split the pack into the more precocious wines that are seductively easy to drink upon release and the often more intense and astringent styles that beg to be allowed a little cellar time. Palliser 2014 Pinot Noir (tasting) and Schubert 2013 Block B (tasting) are examples of the more approachable style. Escarpment 2013 Kupe Pinot Noir (tasting) and Ata Rangi Pinot Noir (tasting) are examples of the more structured style that begs for bottle age.
The middle ground is occupied by my top rated wine, Dry River 2013 Pinot Noir (previously reviewed – tasting) and Craggy Range Te Muna Pinot Noir (tasting) that I rated equal to the more structured and more expensive Craggy Range 2013 Aroha (tasting), although I acknowledge that the latter wine may be the winner in another five years.
I asked Escarpment founder, Larry McKenna, about winemaking trends and he acknowledged that there was an increasing use of whole bunches, particularly with a string of excellent vintages in the region and the resulting phenolic ripeness. "From 2008 we've had a great run of vintages, with the possible exception of 2012, and particularly the last three years from 2013. In our case, greater vine age allows us to pick earlier with less alcohol while achieving good ripeness in flavours and tannins."