St Agnes luxury brandy has golden touch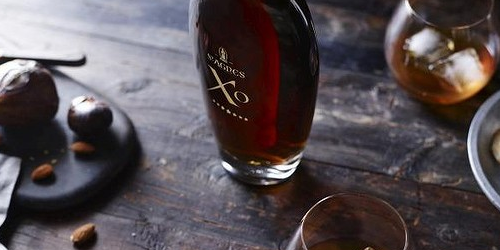 24-carat gold might not be so rare in jewellery, but on a bottle of Australian brandy, it's a first. The stoppers and trims on two newly-released luxury St Agnes brandies make lavish use of gold. They are South Australian winemaker and distiller Angove's tilt at the luxury spirits market, a market that has exploded in recent years.
The family-owned, Renmark-based company has released two extraordinary brandies: XO Imperial at $200 a bottle, and XO Grand Reserve at $800. These set new benchmarks for Australian spirits in both price and packaging.
Richard Angove, a fifth-generation member of the family, was buoyed by the experience of selling a rare old whisky which his family distributes in Australia: Glenfarclas 60-Year-Old single malt. "We sold 12 bottles at $25,000 each in a couple of months, with no effort," he says.
The family is celebrating the 90th birthday of its St Agnes brandy this year, and with 4,600 barrels of brandy maturing in its cellars in Renmark it has no shortage of material – some of it very old – on which to draw.
"The excise on those 4,600 barrels would be between $72 and $74 million," says Richard's father, John Angove. The full value of the spirit is about three times that figure – so about $220 million.
"Age isn't necessarily beauty, however, and we have begun to cull the barrels that don't have the potential to go into higher-level brandies." The rejects are blended away in St Agnes VS, the youngest and cheapest St Agnes brandy at $36. During this rationalisation process, the Angove family realized they were sitting on some seriously great old brandy. They decided to get serious about the top end of the market.
The first sign of radical change came in 2006, when the St Agnes 7-star brandy, which used to have a dumpy bottle with a fusty, green, olde worlde label, was re-packaged as St Agnes XO ($90-$100) in a beautiful pear-shaped flask with a Vino-Lok glass stopper. It's a superb brandy, although at an average age of 15 years it's younger than the two new luxury blends. The XO Imperial has a minimum age of 20 years and the Grand Reserve XO, 40 years.
All three bear the Cognac grade XO, although XO Cognac only has to be six years old according to French law – which is laughable to the Angoves. If 'XO' stands for 'extra old', it isn't very accurate. The Angoves use the XO designation simply for commercial reasons: it is understood globally as a sign of age and quality.
"Technically, " says John Angove, "Our $42 St Agnes VSOP, which is five years old, is just a year off being able to be called XO, according to Cognac law."
Richard Angove has been deeply involved in the all-important packaging. It's no use having wonderful old spirit if the product doesn't look the part. The luxury market is as much about appearance as substance.
Angove sourced the stylish 40-year-old Grand Reserve bottle from French bottle-maker Saver Glass. He had gold-plated necks, bases and stoppers designed and made, at considerable time and cost. The stoppers were moulded in Shanghai, then shipped to Portugal where the corks were fixed inside them, then shipped to Australia. There were 500 stoppers for the 40 year-old and 3,000 for the 20 year-old. "Every bottle was painstakingly hand-assembled and hand-filled by our staff in Renmark," says Richard.
The boxes are also fastidiously designed and made. The 40 year-old comes in a leather and gold-leaf covered case, with an information booklet, and the 20 year-old comes in a leather-covered case. Both have red-velvet lining and a certificate of authenticity signed by John Angove.
"We hope these will be seen as part of the luxury goods business," says John.
They certainly look the part. And the contents are outstanding.
TASTING NOTES
St Agnes XO Imperial 20 Years Old
Bright mid-amber colour. Superbly perfumed bouquet, sweetly fruity with dried citrus fruits galore, plus fresh leather, curing meadow hay and subtle spices. The flavour is very intense and penetrating, powerful and elegant. A modern style, and more Cognac-like than a traditional Australian brandy. A touch of headiness is appealing. The palate is refined, elegant and very long, with a clean finish and no rough edges to its spirit, nor oakiness. A superb brandy of great class.
St Agnes XO Grand Reserve 40 Years Old
Deep amber colour; the bouquet shows more oak vanillin than the Imperial and is richer and less fragrant, while the palate is weightier, with a slight spirit afterburn. Very spicy and complex, with lots of toasted-nut and dried-citrus peel aromas. It's a big spirit; a more hefty, powerful, oak-influenced (but not 'oaky'), old-fashioned Australian style brandy, with terrific length. Very impressive.
PRICE COMPARISON
| | |
| --- | --- |
| St Agnes VS (formerly 3-star) | $36 |
| St Agnes VSOP | $42 |
| St Agnes XO | $90-$100 |
| St Agnes XO Imperial | $200 |
| St Agnes XO Grand Reserve | $750-$800 |
| Courvoisier XO | $120-$130 |
| Hennessy XO | $200-$210 |
| Remy XO | $200 |
| Hennessy 250 Year Blend | $675 |
| Hennessy Paradis | $1,000+ |
| Remy Louis XIII (in Baccarat crystal) | $3,500+ |
BRANDY TIPS
Brandy is the distilled spirit of wine made from grapes.
All Cognac is brandy, but not all brandy is Cognac. Cognac is an appellation: it comes only from a delimited region in western France, just north of Bordeaux.
St Agnes brandy was created in 1925 by Carl Angove, following a visit to Cognac.
St Agnes brandies are double-distilled in a copper pot still, in the same way as Cognac.
There have been only five St Agnes distillers in 90 years.
John Angove's preferred glass: Riedel XO Cognac crystal.
John's preferred way to drink: Neat, with an ice-block (regardless of weather!)
---
First published in Sydney Morning Herald, Good Food – 11 Aug 2015.