Cured and Curious in Mt Eden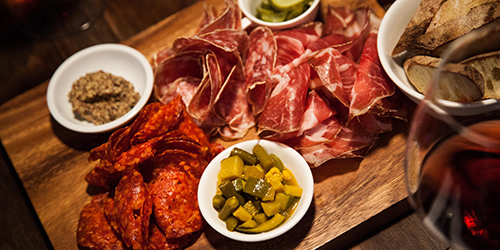 Molten Wine Bar in Mt Eden is introducing a "Cured and Curious" theme on Tuesday evenings. The Cured & Curious concept involves selected beverage experts hosting evening events where patrons can taste and discuss interesting aspects of a wine or a beer. Patrons will also be able to choose from around 20 different cheese and charcuterie options tailored to their preferences.
"It's designed as a fun, informative and informal evening," says part-owner and wine enthusiast, Sven Nielsen. "Wine should not and does not need to be intimidating and yet we know some people feel uncomfortable putting their hand up when they want to know more.
"So we are taking the anxiety out of the process and at the same time demonstrating how wines and beer can be paired with the best charcuterie and cheeses. And it all happens in relaxed, unpretentious surroundings and at affordable prices."
Each event will be themed with such delights as a charcuterie trail, Nielsen's guide to cold meats in various territories and the wines that go well with them. Other themes planned include 'raise a glass to the regions', 'fabulous French reds' and the history behind wine and charcuterie, one of the world's oldest pairings.
There is no entry charge for the Cured & Curious evenings which are scheduled to begin on Tuesday 11 August. Molten Wine Bar also has a full menu from bar snacks and traditional thin based pizzas to main dishes prepared in the award winning Molten Restaurant next door.
Event details are posted on Facebook every Friday for the following week's Cured & Curious evening – https://www.facebook.com/moltenrestaurant