Another Hill Smith produces own wine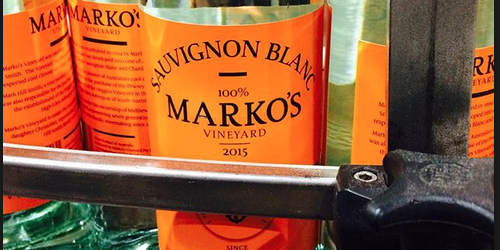 Yikes, there's another Hill Smith producing and selling his own wine. This time it's Matthew 'Matty' Hill Smith, younger brother of Michael Hill Smith MW and partner with Michael in Shaw + Smith (tastings). Ten months ago Matty bought what was formerly known as the M3 Vineyard from Shaw + Smith, and is producing his own single-vineyard wines from it, under the Marko's Vineyard label.
He's just launched a 2015 sauvignon blanc (tasting) and 2015 'Oakless' unwooded chardonnay (tasting), both $27. They were made by a former Shaw + Smith winemaker Darryl Catlin, who these days works as a contract winemaker in the Adelaide Hills, based at Sidewood.
The name Marko's comes from Matty and Michael's father, the late Mark Hill Smith, a former managing director and chairman of Yalumba (tastings), who was known as Marko. According to Matthew, Mark was the man who purchased Pewsey Vale and established Heggies Vineyard for Yalumba, before selecting the site of the M3 Vineyard at Woodside in the Adelaide Hills.
Matthew is an interesting character in his own right. His career has followed a different route from his famous brother Michael. Prior to his cousins Robert and Sam buying out the rest of the family's shares in Yalumba, Matthew set up Yalumba's distribution in Brisbane as well as Negociants' US base in the Napa Valley. He then embarked on a career in restauranting, with 23 years at Brisbane's famed Pier 9 restaurant, which he sold to Matt Moran six years ago for his Aria Brisbane restaurant. Matthew still has his main home in Brisbane.
Running the 28.6-hectare vineyard is another Mark, Mark Vella, who runs a vineyard management company in the Adelaide Hills with 12 clients. Vella manages 180 hectares of vines in the Hills and sells grapes to 28 wineries, including some of the best. Although a freelance viticulturist, he's based at Marko's Vineyard.
The '15 Marko's Vineyard sauvignon blanc is a lovely debut wine. Matty thinks it has the 'DNA' of the earliest Shaw + Smith sauvignon blancs, which came from those vines before expanding production outgrew the vineyard. Darryl Catlin has a 15-year association with the vineyard, which would be another asset.
The Yalumba links are many: Matty has engaged two former Yalumba/Negociants marketing men as agents: Greg Pullen in Sydney and Jeff Smith in Brisbane. Distribution is just getting started, but Matty names Sixty Darling Street Fine Wines, Balmain, and Best Cellars, East Sydney, as outlets.