Rich pickings at Handpicked Wines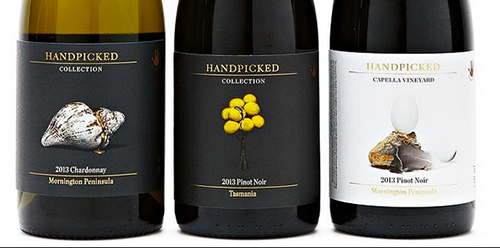 Handpicked Wines (tastings) is an original and exciting new wine company which accepts few limits in its quest to produce great wine. Handpicked is a Sydney-based business which started life as a 'virtual winery', enlisting winemakers such as Rolf Binder in the Barossa, Peter Douglas in Coonawarra and Dominique Portet in the Yarra Valley to make special parcels of regional varietal wines. It quickly spread its tentacles overseas, sourcing moscato from Piedmont, carmenere from Chile, pinot noir from Central Otago, a red from Spain's Calatayud region, and more.
Chief winemaker is Gary Baldwin, a widely experienced Melbourne-based winemaker and senior show judge, who for many years ran a winemaking consultancy called Winenet. That is, until Handpicked co-owner William Dong snapped him up to be full-time chief winemaker. Dong's company, DMG, is far from a fly-by-nighter, and has outgrown its virtual winery beginnings, investing heavily in wine industry infrastructure. In recent years it's purchased vineyards in the Barossa Valley (12 hectares), Mornington Peninsula (Capella, 18ha) and Yarra Valley (Highbrow Hill, 33ha), and built a winery on its peninsula vineyard at Bittern.
Having initially focused on established winestyles such as Clare and Eden Valley riesling, Barossa shiraz and Coonawarra cabernet, Handpicked last year released a posse of impressive Yarra and Mornington pinot noirs, and its top wine, Capella Vineyard Pinot Noir 2013 (tasting), immediately snapped up a gold medal and trophy for the best Mornington Peninsula red wine in the International Cool Climate Wine Show at Mornington. The regular Handpicked Collection 2013 Mornington Peninsula Pinot Noir (tasting) won silver at the same show. All the 2012 and '13 pinots and chardonnay that I've tasted are very good wines.
Recently, Handpicked issued its latest top-line Winter Collection wines, which include a Heathcote shiraz (tasting), Yarra Valley cabernet sauvignon and Highbrow Hill Yarra Valley cabernet sauvignon, and Margaret River cabernet merlot. The Collection reds are $70 retail and Highbrow Hill is $110, so Handpicked is aiming high. Very high. My reviews of the pinots and chardonnays are on the app now, while the cabernets, shiraz and marsanne will follow soon.
The hand-picked idea is reinforced by striking packaging, which includes the motif of a splayed hand, while William Dong issues an invitation to drinkers to "travel the world, one wine at a time".
As a sideline, Handpicked has a partnership with QT hotels, and supplies all in-room wines to QT hotels across Australia.
The wines can be bought from www.handpickedwines.com.au.