Bang
I like the hyperbolic promotion for Bang : BANG IS THE FAVORITE OF CELEBRITIES AND POLITICAL LEADERS, THE PERFECT PLACE TO SHARE GOOD TIMES WITH FRIENDS, COLLEAGUES OR LOVERS. The chutzpah is endearing. It's a BIG claim for a tiny place to be sure. They want you to know they're chic and contemporary. Anyhoo, what is unquestionably true is that Bang is Sydney's first designer – smart Bangladeshi restaurant.
Interior designer/restaurateur Nicholas Gurney and Bangladesh-born chef Tapos Singha (ex- Bills, est, Gowings Bar and Grill) have taken sub-continental hawker food off the street and upstairs. Which is to say they've turned down the chilli and started serving bhaji on Arne Jacobsen monogrammed plates. Then everything has been wrapped in hip packaging, announced by startling red neon as you ascend to a squeezy warehouse-style mezzanine space above Crown Street, with tables and bar stools facing a central kitchen. The ribbon around the package is young staff cutely co-ordinated in t-shirts with a jungular Bengali theme.
Not everything at Bang is strictly 'desh' (homeland) food, but there's balance and subtlety in almost all you'll eat: from crunchy kale leaf bhaji and lovable fuska filled with spicy potato, grated hard-boiled egg and coriander, anointed with tangy tamarind water; to the oniony, livery, hangar steak kebabs, which you enfold in fluffy parathas; or the moist king salmon fillet, with crème fraiche, served with the obligatory Bengali mustard oil and house-made pappadams.
If you're like me, you'll find one dish that rocks your sub-continent. Perhaps the duck egg omelette with blue swimmer crab, and green chill, grape tomato and garlic chives; or the honey roasted paneer; or maybe Bang's comforting kulfi paddle pop at dessert.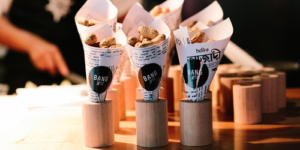 Unlike many places paying tribute to the cooking of the sub-continent, Bang's wine list isn't an afterthought. And the cocktails certainly don't cruise down the middle of the road. The Dhaka Attacker (gin, cherry liqueur, lemon juice) and Man-Eating Tiger (rum, apple brandy, Bengali spices, lemon juice) take no prisoners.
And if you've ever thought "I wonder what Portuguese wine would be like with Bengali food" (you know who you are), the moment of truth has arrived.
My Quinta das Camélias, 2012 (mainly touriga nacional and jaen from the Dao region) is all easy-going sweet fruit, well-judged concentration and with some leathery, pruney characters. While I'm drinking it with the kebabs, I think of it as a sort of teaching moment, demonstrating how easy Portuguese dry red wine works with food where the chilli element is restrained.
Of course that might be one criticism the chilliasts will make about Bang: that this is subcontinental food without the roar of the tiger, without the expected chilli fire. In fact, Bengali food is noted for its lightness and balance. And the absence of eye-watering heat is not a criticism any wine-head diner would make, whatever their opinion of Portuguese dry wine.
It could be that you'll find the small details at Bang especially endearing: the lovely tomato and coconut chutney made to the chef's mother's recipe; or the zippy black mustard seed yoghurt that goes with the house purl (unleavened flat bread).
Me, I'm a fan of the soundtrack, which segues from Steely Dan to tribal house before you can say "David Guetta". In fact, on the night they were playing Guetta's "Shot Me Down" from Tarantino's Kill Bill. It's an adaptation of the old Nancy Sinatra song "Bang Bang".
Hmm, now there's the perfect name for a hipster sequel to Sydney's first designer-smart Bangla restaurant.
Address: 3/410 Crown Street, Surry Hills
Phone: 02 8354 1096
Web: www.bangstreetfood.com.au Email: eat@bangstreetfood.com.au
Open: Tueday — Saturday. Lunch: Friday & Sat noon-2pm; dinner: Tues-Sat 6pm -late
Price: E: $8-$20; M: $23-$32; D: $11-$15
Rating: 13.5 /20
How good was the food? 3.5 /5
What was the service like? 4 /5
Did the atmosphere work? 3 /5
Is there an X Factor about this place? 3/5