'Down to Earth' in Central Otago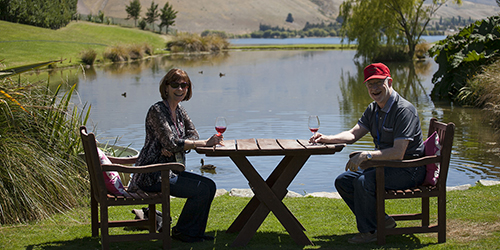 A two-week wine event in October promises to be a drawcard for local wine enthusiasts as well as the many (mainly Australian) overseas tourists who visit the region during the skiing season.
"The Down to Earth Wine Celebration" offers a wide choice of "hands on" wine related activities offered by 30 wine producers. You simply need to visit downtoearthwinecelebration.co.nz to choose from a range of activities that suit your interest and budget. Some of the highlights include:
– See sparkling wine being disgorged at Quartz Reef (and presumably taste the finished product – tastings)
– Get out in the vineyard and do a bit of shoot-thing at Misha's Vineyard (tastings) before dining on organically grown local produce
– Learn how Felton Road (tastings) uses chickens, goats and compost to make great wine
– See how wine is made at the Remarkable winery
– Enjoy a long lunch at Wooing Tree winery (tastings)
– Compare Central Otago Pinot Noir and Burgundy (Gevrey-Chambertin) at Domaine Thomson
– Match food and wine with art at Carrick winery (tastings)
– … and many more
"Bring your boots and raincoats, as well as your high heels and fur coats, and discover the vineyards, wineries and fine dining restaurants of the wider Central Otago region," says organiser Bruce McGechan.
WHEN: Saturday 24 October to Wednesday 4 November 2015
WHERE: Central Otago
HOW MUCH: prices vary, check the website
WEBSITE: downtoearthwinecelebration.co.nz