NZ Pinot Noir cleans up in OZ wine show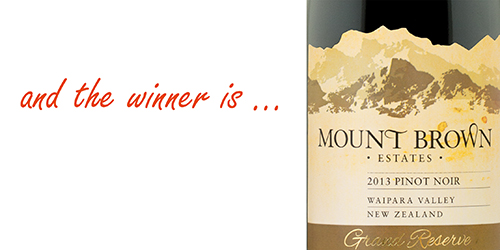 Mount Brown Estates 2013 Grand Reserve Pinot Noir won three out of the four top awards at this year's Sydney-based Boutique Wine Awards.
It won top honours for:
– Top Wine of the Show
– Red Wine of the Show
– Estate Grown and Produced
Australia's 52stones 2014 Barrel Selection Chardonnay from WA won the only other top award, White Wine of the Show, for the second year running.
The show is open only to wineries that harvest less than 250 tonnes of grapes and are independently owned. The show attracted around 1000 entries, 90% of which were from Australia and the balance from New Zealand.
Mount Brown Estates (tastings) is a small family producer in the Waipara Valley. They have been making Pinot Noir from their own high density vineyard (4200 vines per hectare) since 2005. The 13 year-old vines are planted on a two cane VSP trellis with 600mm canes to maximise flavour concentration. Winemaking is fairly traditional with a pre-fermentation cold soak and post-fermentation maceration of around 10 days. The fermenting wine is hand-plunged. The wine is matured for 12 months in French oak barriques – 30% new. 2013 was the first vintage that Mount Brown released a Grand Reserve Pinot Noir.
This wine is available from the Mount Brown Estates website for the remarkably affordable price of $25 (two bottles max.).