Cloudy Bay viticulturist wins regional award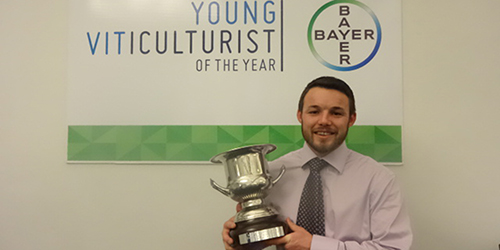 Matt Duggan from Cloudy Bay (tastings) is the Bayer Marlborough Young Viticulturist of the Year 2015. Duggan was quizzed on a variety of topics including pruning, trellising, pests & diseases, tractor maintenance, HR negotiation, budgeting and irrigation as well as having an interview and a quick fire buzzer round. He battled with six finalists beating Brenton O'Riley, from Giesen in 2nd place and Anthony Walsh from Constellation 3rd.
Duggan has been Marlborough Young Viticulturist twice before, so goes through to the National Final with a lot of experience and a real determination to win the national title of Bayer Young Viticulturist of the Year 2015, especially as aged 29 this is his last opportunity to qualify for entry. He will be competing against Regional Finalists from Hawke's Bay, Marlborough and Martinborough and the National Final will be held in conjunction with Bragato over 25-27 August in Hawke's Bay.
As well as gaining the title, the national winner will be awarded a $5000 travel voucher from NZSVO, 1 years full lease of a Hyundai Santa Fe, $2000 cash, wine glasses and leadership training. They will also secure a place in the Young Horticulturist of the Year competition representing the viticultural industry.