French chemical war escalates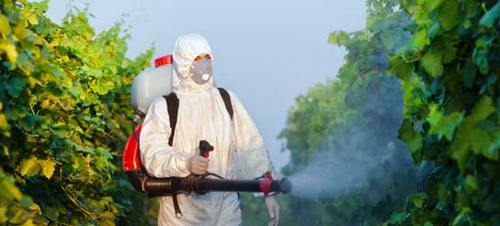 I was interested to read that the war against the agrichemical companies has escalated a notch or two in France, with a family suing over the death of a Bordeaux vigneron who sprayed his vines with a carcinogenic pesticide for 40 years. James Bernard Murat died from lung cancer in 2012.
His daughter, Valérie Murat, said her father used sodium arsenite for 42 years, from 1958 to 2000, to treat his vines for esca, a disease caused by a parasitic fungus that affects the trunks of mature grapevines. He used the product despite the fact that its harmfulness had been "officially recognised since 1955", the Telegraph reported recently.
"Until now, the official line has been that my father got cancer because he had wrongly used the products sold to him. The industrial chemical giants are now going to have to take responsibility for their role [in his death]," she told Nouvel Obs.
Her lawyer, François Lafforgue, said: "This is about recognising that the labels on the incriminating products didn't indicate the serious effects of inhaling them and the need to wear a mask while using them." The lawsuit could open the floodgates for similar actions.
'Modern Farmer' reported:
"The case, legally filed against X as per French law, targets the pesticide producers as well as the French state. According to Lafforgue, the three companies that produced the pesticide were Aventis, CMPA, and Littoral. Lafforgue specializes in cases of pesticide victims. In regard to including the French state in her case, Valerie Murat told French newspaper Le Parisien, "If the Ministry of Agriculture had done his job, he would have checked and banned the sale of these products."
Read the Telegraph story via this link.