Syrah/Viognier falling out of fashion?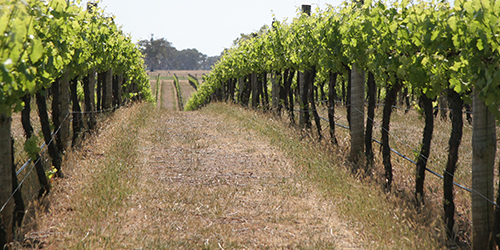 They've been doing it in France's northern Rhone Valley for centuries. Co-fermenting Syrah with Viognier that is. Adding a small percentage of Viognier grapes to fermenting Syrah is reputed to give the resulting wine a deeper colour, a silkier texture and help accentuate the aroma of red fruits and floral characters. Côte-Rôtie is likely to have been co-fermented while the process is seldom used in Hermitage, for example.
If it wasn't for co-fermentation Viognier might have been extinct today. In 1965 the world area of Viognier was down to eight acres, all in the northern Rhone. Today the variety is in fashion throughout the New World where it is made as a single variety or blended with Syrah. Co-fermentation with Syrah became sexy a decade or two ago.
Trinity Hill founder, John Hancock, likes the influence that a little Viognier can have on the texture of Syrah, but he doesn't believe it has any effect on the wine's aromatics. "If the label says Syrah/Viognier you'll find it in the wine's aroma, even if it's not there", says Hancock. Trinity Hill (tastings) uses a small amount of Viognier in their various Syrah labels in most years.
Despite his enthusiasm for the Viognier, Hancock says there is nothing to be gained by putting it on the label. In fact there might be customer resistance when the label reds "Syrah/Viognier". If someone is looking to buy a Syrah there is a chance they might be put off the word "Viognier".
Te Mata Winemaker, Peter Cowley, co-ferments his Estate wine (tastings) with Viognier but doesn't use the white grape in his flagship Bullnose Syrah (tastings).
"I vary the percentage depending on the vintage. Viognier usually represents around 5% but can go as high as 15%. Cowley, like Hancock, believes that Viognier gives the wine a "sexier", silkier texture, but he also thinks the variety can be evident on the nose. "Some people believe that Viognier introduces a floral component, but I think it helps emphasize the wine's red fruit characters", he explained. "Bullnose has enough fruit intensity, guts and character without further addition so I leave it well alone." It's interesting to note that Te Mata's Estate wine once sported "Syrah Viognier" on its front label but is now described as "Syrah".
I recently tasted Yalumba 2013 Shiraz/Viognier "Y Series" (tasting) alongside Yalumba 2013 Shiraz (tasting) – both retail for around $17.50. The Shiraz/Viognier is certainly silkier and more aromatic. An impressive red particularly at its relatively modest price. The straight Shiraz is gutsier and more solidly varietal. It seemed to have a more pronounced oak influence. The Viognier blend is more "feminine" while the Syrah is more masculine – non-PC terms but expressive nonetheless.
Which is better? I awarded them both 91 points in a blind tasting. Which would I prefer to buy? That's a tricky one, probably the Viognier blend for serious social sipping and the Shiraz with food.