A very special wine dinner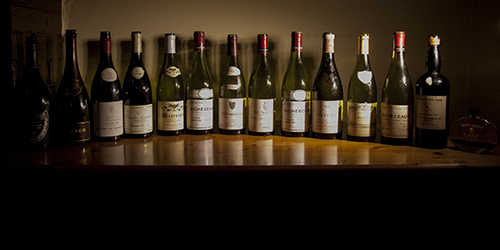 At the beginning of the recent Chardonnaypinotnoir2015 that I wrote about two weeks ago, hosted in the Yarra Valley by Toolangi (tastings) and Coldstream Hills (tastings), a very special dinner was given for the members of the 'expert panel'. The hosts were Toolangi owners Garry and Julie Hounsell, and Garry dipped into his private cellar for some astonishing bottles, mostly – no surprise here – red and white Burgundies. The dinner was held at the Healesville Hotel in a cosy private room and the food did the wines proud.
House-smoked salmon with leek and apple accompanied a trio of wonderful 2008 white Burgundies (La Belle Voisine Montrachet – tasting, Etienne Sauzet Chevalier-Montrachet – tasting and Coche-Dury Meursault Rougeots – tasting); roast duck breast with red cabbage, celeriac, chard and house-smoked pancetta accompanied a quartet of 1985 red Burgundies (DRC Echezeaux – tasting, Henri Jayer Nuits-St-Georges Meurgers – tasting, Comte De Vogue Musigny – tasting and DRC Richebourg – tasting); and venison with potato galette, truffle and onion accompanied three very old red Burgundies ('59 DRC Echezeaux – tasting, '55 Seguin-Manuel Beaune – tasting and '26 Dr Barolet/De Villamont Beaune – tasting). Finally, chocolate truffles, dried fruits and walnuts were served with two very old ports (1945 Graham's – tasting and 1915 Seppeltsfield 100-year-old Para – tasting). Oh, and the evening started with the most superb oysters with '96 Dom Perignon Oenotheque (tasting) and '96 Krug (tasting).
The Champagnes were both great in totally different styles, the Krug golden, massive and biscuity, the Dom refined and hauntingly perfumed.
Of the whites, the Chevalier was the clear winner, although the Meursault – a mere village wine against two grand crus – was far from humbled. But the Chevalier was about as perfect a white Burgundy as I've drunk for ages. Pristine, poised, fresh and fantastic, with a perfume that kept on giving long after the wine was gone from the glass.
The '85 bracket was a DRC shoo-in. The Echezeaux was exquisite: pale coloured but sublimely perfumed, graceful and whole-bunchy complex. The Richebourg was equal to the Echezeaux, bigger but not so ethereal. A great pair.
The old Beaunes were all good, but the Barolet, much older than the other two and yet still drinking superbly, was the stand-out. A wonderful old wine of great length and intensity.
At 70 years, the Graham port was in its prime, still deeply coloured and spicily bright, just starting to enter its ethereal stage, and promising to drink well for another 30 years, I'd guess. And the 100-year-old Para? More like very old aceto balsamico than wine, thick as treacle and lasting endlessly in the mouth.
Wine of the night: hard to pick between the two 1985 DRCs, the Chevalier and the Graham. I rated them all 98.