Is Australia better than Burgundy?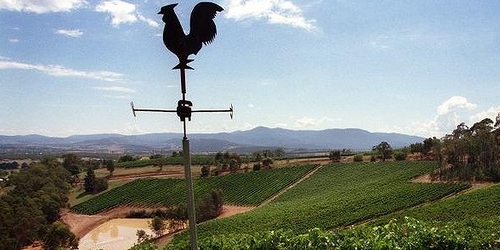 Just how good are Australian and New Zealand wines made from the Burgundy grapes chardonnay and pinot noir compared to the real thing? This seemed to be the agenda at the recent Chardonnaypinotnoir15 international masterclass in the Yarra Valley. And it's a timely question, a question people are constantly asking.
Is it possible that the New World pretenders are now on the same level as the Burgundy originals? Could chardonnays which retail for between $40 and $80 a bottle be as good or better than classics with revered names like Meursault (tastings) and Batard-Montrachet, which retail for between $120 and $300?
That was the approximate price difference between the Aussie chardonnays and white Burgundies served at the event. There were 21 chardonnays, nine from Burgundy, nine from the Yarra Valley and three from New Zealand. These were tasted on a cold, wet Yarra Valley Saturday afternoon, and there was a similar exercise with pinot noir on the Sunday.
The attendees were asked to nominate their favourite chardonnays, in each of three flights, and while Burgundy and the Antipodes were neck-and-neck for first and second placings, there seemed little doubt that Australia won on points. Australia and New Zealand were helped by the fact that all of their wines were screwcapped, while all the Burgundies were under cork, and some of them suffered as a result. The Etienne Sauzet Puligny-Montrachet 1er cru Les Perrieres 2012 ($120) was a little flat, and I was told by the servers that all five bottles were similarly dull. As well, the first bottle of Patrick Piuze Chablis Grand Cru Bougros 2012 (easily the cheapest French wine at $65) was oxidized; the second bottle was much fresher, but doubts lingered.
As a generalization, the Aussie wines were bright, clean and fresh, and you could have absolute confidence you were tasting the wine as the winemaker intended it. Several showed superbly, the Toolangi Reserve 2013 ($80 – tastings) being the room's favourite in the final flight, although the panel preferred the Bachelet-Monnot grand cru Bâtard-Montrachet 2012 (tastings). Seville Estate Reserve ($70 – tastings), Giant Steps Mea Culpa ($60), Hoddles Creek Estate 1er Yarra Valley ($40 – tastings), Wantirna Estate Isabella ($60 – tastings), and Tarrawarra Reserve ($65 – tastings), all from 2013, were absolute gems.
The pinot noirs were, I thought, a more open-and-shut case for the Anzacs. To generalise again, the Burgundies were less fruity, less aromatic, less overt in their charms than the Anzacs. With three or four exceptions, they were closed, some even dull, with a lack of freshness, primary fruit and verve. The stars, in my book, were Serrat ($80 – tastings), Mac Forbes Woori Yallock Black Label, Yering Station Reserve ($120 – tastings), Toolangi Estate (a steal at $35 – tastings), Gembrook Hill ($50 – tastings), Coldstream Hills Deer Farm ($50 – tastings) and Coldstream Hills Esplanade ($50 – tastings), all Yarra Valley and all 2013 vintage. Right up with them were New Zealand's Felton Road Block 5 ($130 – tastings), Matua Central Otago Single Vineyard ($60 – tastings), and the lone South African, Hamilton Russell Walker Bay ($50 – tastings) – again, all 2013s.
The Burgundies were disappointing because they were either too dry and tannic, too oaky, lacked fruit appeal, or showed aberrant flavours – possibly brettanomyces spoilage. There were three exceptional Burgundies, all superb wines. They were, first and foremost, Domaine Armand Rousseau grand cru Charmes-Chambertin ($300 – tastings), a sublime wine of great finesse and complexity; Chateau de Latour Clos de Vougeot ($100 – tastings) although it was quite oaky and needing more time; and Arnoux-Lachaux Nuits-St-Georges 1er cru Les Proces ($100 – tastings). Like the Taupenot-Merme grand cru Charmes-Chambertin ($180 – tastings), the red Burgundies were generally unready, needing more time in the cellar. They showed less fruit and freshness in their aromas and flavours and were more savoury, more structural, less giving.
Burgundy winemaker Benjamin Leroux was in the audience, and he confirmed that Burgundy winemakers are not seeking the same things in pinot as Australians. They want structure more than fruit. Varietal character is irrelevant to them. They don't even think of their wines as pinot noirs, they are Chambertin, Volnay or whatever the appellation happens to be. This is because they have only one white and one red grape to work with. The grape is simply a vector for the terroir of their vineyards.
That's all very well, but in order to buy, cellar and wait for these wines to magically mature and produce their pay-off, takes a lot of blind faith. And, in my experience at least, that blind faith is too often rewarded with disappointment to justify the prices being asked.
This then is the Yarra Valley's golden opportunity. Don't show us: we already know what you can do. Show the world.
The Chardonnaypinotnoir15 masterclasses were held at the RACV Club, Healesville, Yarra Valley, on July 11-12 and the key sponsors were Toolangi Vineyard (tastings) and Coldstream Hills (tastings).
---
First published in Sydney Morning Herald, Good Food – 28 Jul 2015.