Gisborne is in good heart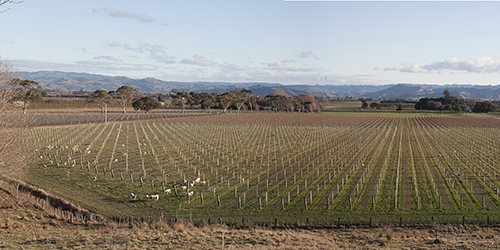 After spending a few days visiting Gisborne wineries, I was encouraged by the spirit of optimism expressed by most producers. Gisborne was hard hit when Pernod Ricard pulled out of the region, selling many of its brands to Lion, while much of the vineyard and winemaking assets were snapped up by contract winemaking company Indevin. They also had to deal with the national wine surplus, a global financial crisis, an exchange rate that undermined export profits and a couple of challenging vintages in 2011 and 2012. Despite these challenges I'm not aware of any Gisborne producer having to shut their doors.
A trio of good to great vintages in 2013, 14 and 15 put a smile on the face of every winemaker. A newly formed Gisborne winemaker's cooperative is working well, and several producers who deal with Indevin told me that this large producer is doing an even better job than Pernod Ricard. Furthermore, a drop in national production has put a little upward pressure on wine prices. Gisborne was the only region to report an increase in production in 2015, which has no doubt put a spring in the step of those with bulk wine to sell. Although some of the smaller producers have reduced their vineyard area, the larger companies have dramatically expanded vineyard size to cope with a growing market.
If you created a list of New Zealand's top 100 entrepreneurs I'm sure that Gisborne would be over-represented. Local grape growers and winemakers certainly seem to be more prepared to "give it a go" than producers in other regions. Fuelled by vine material from the outstanding local grapevine nursery Riversun, Gisborne producers have a great record for launching new varieties. Riversun pioneered the following varieties: Albarino, Alvarinho (3 clones), Carmenere, Dolcetto 02, Fiano, Gruner Veltliner (2 clones), Lagrein, Malvasia Bianca, Marsanne 574, Mourvedre 369, Mtsvane, Muscat a petits grains, 453Petit Manseng 573, Petit Verdot 400, Primitivo UCD 3, Saperavi, St Laurent, Verdelho 02, Vermentino 766, Vernaccia, Viosinho and Zinfandel 03.