The world's hardest working wine family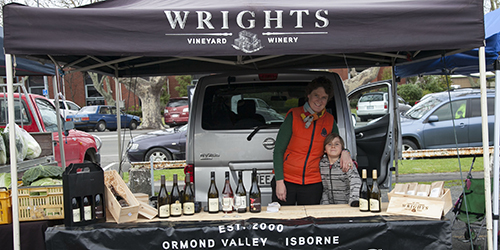 Geoff and Nicola Wright started growing grapes in 2000. They have three Gisborne vineyards totalling around 18 hectares and planted with Chardonnay, Gewürztraminer, Semillon, Sauvignon Blanc, Viognier, Merlot, Syrah, Cabernet Franc, Cabernet Sauvignon, Pinot Noir, Pinot Gris and Pinot Meunier.
Geoff practiced as an accountant until the vineyard was established and now looks after their vineyards, winemaking and winery management. Nicola is a barrister who continues to work in a law firm to help fund the winemaking operation. They have three very active boys; Noah (7) who Geoff believes will one day become NZ's youngest MW, Elijah (5) who will look after international sales once he has a passport, Luke (3) who they hope will be the company viticulturist when he learns to use a pair of secateurs and Guy (16 months) who will one day look after NZ sales.
Last year, Nicola won Rural Enterprise Woman of the Year and this year she beat 16 candidates to win a Westpac Fellowship Award that entitles her to do a Leadership Mindset Program. I watched Nicola in action at her stall in the Gisborne Farmers Market – she chatted to a steady stream of customers, while keeping an eye on her four boys and answering my questions about their business. Wrights make vegan wines from grapes grown organically and biodynamically in their own vineyards. They keep a reasonably low profile on the fact that their wines are vegan.
I recall meeting Geoff and Nicola for the first time around five years ago. I also recall holding Elijah, then a few months old, while Nicola jumped into the cow dung pit to demonstrate their biodynamic preparation. The family was living in a portacom (portable home the size of a shipping container) on their vineyard. They moved into their home, which they constructed from hay bales, shortly afterwards.
Their wines are sold under "Natural Wine Co" (all $19.95 except the Rosé which is $15) and their premium Wrights label $28-38. All the wines that I tasted seem to have a purity that Geoff and Nicola might attribute to organic/biodynamic influences, and they may be correct.
My favourite was a delicious 2014 Wrights Reserve Chardonnay $38 "Impressively weighty Chardonnay with plenty of weight and a rich texture". I noted white peach, citrus/grapefruit and mineral flavours, plus a seasoning of nutty oak and bready yeast lees. "Delicious wine – made with a light touch." 92 points. Best value wine was 2014 Natural Wine Co Rosé $15 "Light, pretty wine oozing with charm. Delicious crushed strawberry and raspberry flavours. I like the wine's gently drying finish and appealing purity. Is it my imagination or does it actually taste purer than most conventionally made examples?"