Vale Guenter Prass AM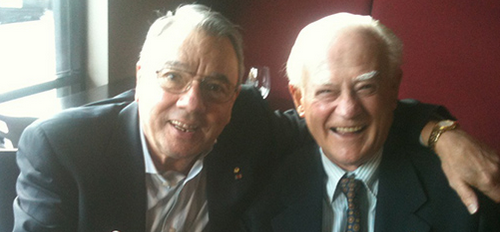 (Guenter Prass on the right, with Wolf Blass)
Guenter Prass AM, one of our most influential winemakers of the 1950s to 1980s, has died at the age of 88.
The son of a winemaker and grandson of grapegrowers, Prass's distinguished career began in Germany where he studied viticulture and winemaking. One of the first "flying winemakers", he went on to work in Europe, North Africa, the Middle East and Australia. Prass held various positions at Orlando Wines between 1955 and 1988, including table winemaker during the launch of Barossa Pearl in 1956 – the wine most credited with shifting Australians' drinking habits from fortified to table wine.
Prass helped give Australia a new edge in commercial winemaking, building our expertise in controlled fermentation and wine handling.
He worked as trading director of Thomas Hardy & Sons, general manager at Barossa Valley Estate and later as a consultant to The Hardy Wine Company.
He was an inaugural trustee of the Wolf Blass Foundation and a life member of the Winemakers' Federation of Australia. He was awarded an Order of Australia in 1990, the inaugural Wolf Blass Award for his contribution to the development of riesling in Australia in 2003 and the Maurice O'Shea Award in 2004. WFA chief executive and Wolf Blass Foundation trustee Paul Evans said Prass's passing would be a heavy loss felt across the industry.
"I had the pleasure to get to know Guenter over the last two to three years and he was a passionate advocate for the industry, and he lived a life dedicated to the pursuit of rigorous standards of excellence," said Evans. "He will be sadly missed by all who knew him and had the opportunity to learn from his intellect and wisdom."
Guenter Prass passed away peacefully on Sunday, July 12.