Gisborne legend launches new wine label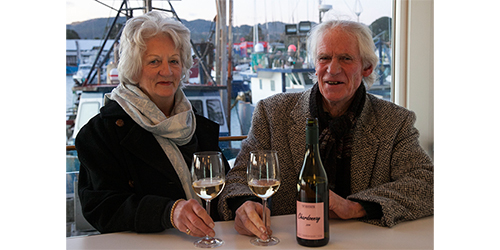 Dennis Irwin has a reputation of being the wild man of the Gisborne wine industry. He founded Matawhero Wines (tastings) in 1969. Much of his crop was sold to larger wine companies, but he kept the best for himself and produced some legendary wines.
Wine enthusiasts of a certain age still talk about the fabulous 1978 Matawhero Gewurztraminer – a powerful expression of intense varietal flavours that encouraged others in the district to plant the variety. 1989 Matawhero Cabernet Merlot was another stand-out wine made, I think, by the talented Hatsch Kalberer who now makes wine for Fromm Vineyards (tastings) in Marlborough. I tasted the 1989 Cabernet Merlot during a visit to Gisborne – It was still in remarkable shape with vibrant fruit flavours. The quality of that wine helped to reinforce Dennis' claim that "Other winemakers are doing Mills & Boon while I'm doing Hemmingway".
Dennis is a famous party animal. He was named as a finalist in their "Young Tearaway of the Year Award" by Winestate magazine after being thrown out of pub while celebrating his birthday party. No surprises there except Dennis owned the pub.
After a bout of ill health following a near fatal car accident, Dennis and his wife Vi (pictured) sold Matawhero a few years ago. They both deserved a well-earned retirement, but their passion for making wine overcame their desire to put their feet up. Dennis and Vi built a new house with winery attached and planted a small vineyard with a diverse range of grape varieties. Their new wine brand is called "747", the winery's street number.
Dennis invited me to visit his new winery to taste three of his latest release wines. Shortly after I arrived another 15 or so people followed me in. There's no point in opening a few bottles without having a party. The other guests included winemakers/owners of Bushmere Estate, Garagiste Wine Co and Hihi (tastings). They all came bearing bottles for me to taste and for others to drink. It was 3pm when I arrived. I understand that the last guests left at 10:30pm.
I tasted three 747 wines. The most impressive was 2014 Marsanne & Friends $24, a dry wine with good varietal character, impressive weight and a silken-smooth texture that led to a slightly peppery finish. 2014 La Blanc Peche Viognier $24 also had an appealing texture and good weight, with typical apricot kernel characters and a slightly grippy finish. 2014 Chardonnay $24 was made from grower fruit and showed attractive peach and nectarine flavours but, like the others, had slightly dusty tannins.