Chardonnaypinotnoir15 – Pinot Noir tasting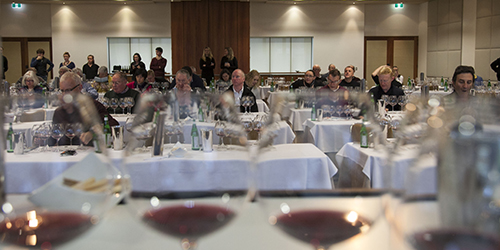 On Sunday 12th July I was a panellist on an international Pinot Noir tasting in the Yarra Valley. The event was conceived and sponsored by Garry and Julie Hounsell of Toolangi Vineyards with Coldstream Hills as a co-sponsor for the first time this year. I have listed approximate retail prices in A$ and have shown the winning wines according to the wine enthusiast audience which numbered around 100 people. All wines without a country are from the Yarra Valley.
Flight One
1. 2013 Coldstream Hills The Esplanade Pinot Noir $45
2. 2012 Jean Luc and Eric Burguet Vosne Romanee (Fr) $175
3. 2013 Hamilton Russell Pinot Noir (South Africa) $50 [SECOND]
4. 2012 Etude Heirloom Pinot Noir (Carneros, California) $80 [FIRST]
5. 2012 Hospices de Beaune Beaune 1er" Nicolas Rolin " (Fr) $180
6. 2013 Serrat Pinot Noir $75
7. 2013 Mac Forbes Woori Yallock Pinot Noir $70
The Californian wine was a real crowd-pleaser although, while I liked its concentration and complexity, I found the flavours to be a little too porty and overripe for my taste. The Hamilton Russell impressed me for its charm and delicacy, although my vote for top wine went to the Vosne Romanee.
Flight Two
1. 2013 Yering Station Reserve Pinot Noir $120
2. 2012 Voillot Pommard (Fr) $100
3. 2013 Matua Single Vineyard Pinot Noir (NZ – tasting) $60
4. 2013 Toolangi Estate Pinot Noir $35 [FIRST =]
5. 2013 Gembrook Hill Pinot Noir $50 [FIRST=]
6. 2012 Benjamin Leroux Volnay " Les Mitans" (Fr) $120
7. 2012 Arnoux-Lachaux Nuits St. Georges (Fr) $100
A good result for the Yarra with two wines as clear leaders. My two favourites were Yering Station and Toolangi. The French wines suffered from being a little too hard and extracted while the Kiwi wine, which rated in the middle of the field, possibly suffered from being too soft and having too much alcohol sweetness.
Flight Three
1. 2013 Punch Close Planted Pinot Noir $90
2. 2012 Tapenot-Merme Charmes-Chambertin (Fr) $180
3. 2013 Felton Road Block 5 Pinot Noir (NZ – tasting) $130
4. 2013 Toolangi Vineyards Block E Pinot Noir $65
5. 2012 Chateau De La Tour Clos Vougeot (Fr) $100 [SECOND=]
6. 2013 Coldstream Hills Deer Farm Pinot Noir $50 [SECOND=]
7. 2012 Armand Rousseau Charmes-Chambertin (Fr) $300 [FIRST]
The strongest of the three flights with probably the clearest winner in the whole tasting. Armand Rousseau lived up to its exalted reputation by delivering a seamless and beautifully constructed wine that dazzled many of us (and certainly all panellists). It was a fitting end to a great tasting. Felton Road was the most accessible wine in the flight and possibly the fruitiest. I voted it second favourite.