Dinner at the Healesville Hotel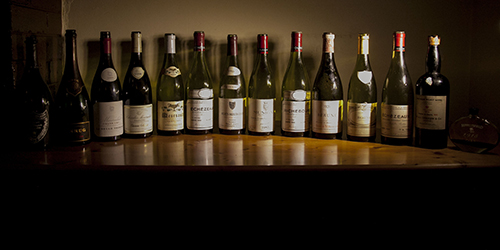 Garry and Julie Hounsell, owners of Yarra Valley's Toolangi Vineyards, organised a fantastic dinner for eight people at the Healsville Hotel.
We enjoyed 1996 Dom Perignon Oenotheque (meaning late disgorged after extra time en tirage) and 1996 Krug with goat cheese gougeres, freshly-shucked oysters, salmon roe, rye and cucumber. Krug came first thanks to a suspicion of cork taint on the Dom (I noted that both bottles were emptied).
The second course of house-smoked salmon, leek and apple was enjoyed with three white burgundies: 2008 Montrachet – La Belle Voisine, 2008 Chevalier-Montrachet – E. Sauzet and 2008 Meursault " Les Rougeots " – J.F. Coche-Dury. All great wines with the Meursault voted favourite for its impressive power, creamy texture and superb chalk/mineral backbone.
The most exciting group of wines was served with duck breast, red cabbage, celeriac, chard and house-smoked pancetta. The wines were: 1985 Echezeaux – DRC, 1985 Nuits-Meurgers – Henri Jayer, 1985 Musigny – Comte de Vogue and 1985 Richebourg – DRC. The wines were proof, if proof were needed, that 1985 was one of Burgundy's greatest vintages. All wines were in prime drinking condition although, sadly, the Henri Jayer was very slightly corked. There was stunned silence as we savoured four truly great wines, followed by animated discussion which resulted in the Richebourg taking line honours. It was a perfect wine that I would happily award 100 points though scoring wines at this level would have been an indignity. The Richebourg literally brought tears to my eyes.
Venison, potato galette, truffle and onion was served with three older burgundies: 1926 Beaune – Dr Barolet, 1955 Beaune – Seguin Manuel and 1959 Echezeaux – DRC. The 1955 Beaune was slightly travel weary, the Echezeaux was drinking beautifully and the 1926 was spectacularly good, given its age, with gentle layers of delicate fruit flavours supported by appealing fruit sweetness – a real pleasure to drink.
Finally with walnuts, chocolate truffles and dried fruits we sipped a pair of ports: 1945 Graham's Vintage Port and 1915 Seppeltsfield Para Liqueur Port. The Graham's was amazingly pure and quite youthful with subtle fruit flavours, while the Seppeltsfield Para was a syrupy, treacle-like essence – a concentrated wine that gradually opened as it sat in the glass. I note that James Halliday (who was present at the dinner) awarded the 1915 Seppeltsfield Para 100 points.
My sincere thanks to Garry and Julie for inviting Marion and I to a dinner of such epic proportions. It's probably crass to mention it, but I valued the wines at over $25,000.