Lessons in pinot noir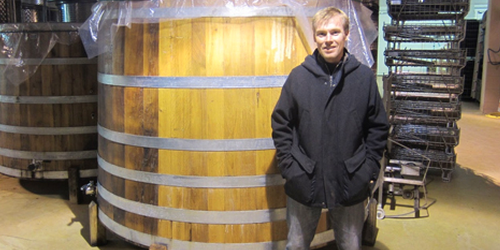 One of the lessons from last weekend's chardonnaypinotnoir15 event in the Yarra Valley was the different approach of Burgundy winemakers compared to Australians and New Zealanders. Our winemakers seek to highlight fruit in their wine whereas the Burgundians de-emphasise fruit and varietal character, seeking instead structure and aging ability. This was confirmed by Burgundy winemaker Benjamin Leroux (pictured), who is in Australia at present promoting his own Benjamin Leroux wines.
This isn't to say that our winemakers aren't interested in structure (in pinot noir): they are, but it is secondary to fruit intensity and aroma. Leroux repeated what is often heard from Burgundy winemakers: they don't think about varietal character, they don't even think about making chardonnay or pinot noir, as these are the only grapes they have. They are making Burgundy, and within that context, they are making Gevrey-Chambertin, Volnay or whatever the appellation happens to be. Hence, red Burgundy generally lacks the aromatics that we find in Australian and Kiwi pinots. Burgundians are seeking something that is not always apparent in the young wine but which they know instinctively will emerge with age.
Why can't we have both, I hear you ask. I'm no chemist, but it seems that the more tannin pinot noir possesses, the less aromatic, probably because aroma compounds are bound to the tannins – at least when the wine is young. Age polymerises (softens) those tannins and releases the aromas as the wine matures, which is why the developed bouquet of an aged Burgundy can often be exquisite. Aussie tasters will often prefer the more fragrant, fruity and varietal wines – pinot as well as chardonnay – because that's what they're used to.
When asked which wine he preferred at Sunday's pinot tasting, Leroux indicated a 2012 Joseph Voillot Pommard Vieilles Vignes, which was clearly the least-favoured wine of the bracket of seven among the wider audience and certainly the panel (myself, James Halliday, Bob Campbell and Nick Stock). It was tight and smoky, dry and charmless, lacking fruit and aroma to my palate.
Evidently, Leroux could see something in this wine that he valued, whereas most others in the room couldn't, preferring the Toolangi Estate 2013 (previous tastings) and Gembrook Hill 2013 (previous tastings), the former rich and chocolaty, dense and fleshy, the latter smoky oak over cherry and raspberry fruit, lush pinot fruit flooding the palate – a gorgeous wine. These two were $35 and $50 retail, incidentally, while the Voillot was $100. This was a scenario replayed throughout the two-day event, and I'm sure Leroux was scratching his head much of the time.
In another pinot bracket, it was a 2012 Vosne-Romanée from Jean-Luc and Eric Burguet ($175) taking the role of the fall guy. It was charred-oak scented, firmly tannic and relatively closed. The preferred wines were 2012 Étude Heirloom from California, a dark coloured, dense and weighty, slightly minty wine; a concentrated and beautiful 2013 Hamilton Russell from South Africa, as well as the gorgeously raspberry/cherry, fluent Mac Forbes Woori Yallock (tasting), funky but fine Coldstream Hills Esplanade (previous tasting) and delicate, "pretty", very fine and long Serrat (all 2013 Yarra Valley).
As they say in France, chacun à son goût (each to his/her own taste).