Riedel Central Otago Pinot Noir glass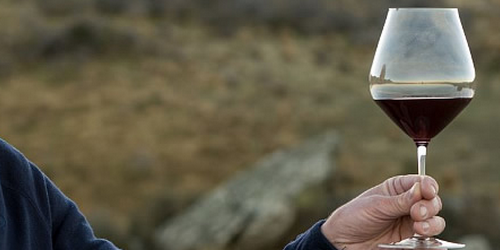 Good wine needs a good glass. As Hugh Johnson put it so eloquently, a wine needs the right glass just as a painting needs the right frame. The Riedel family of Austria has made a great business out of designing and making crystal stemware ('glassware' doesn't seem the right word) to suit every major grape variety, and even regional expressions of same. Riedel is now working on a Clare Valley riesling glass and a Rutherglen muscat glass. The latest regional varietal glass hit my desk the other day: the Central Otago pinot noir glass (pictured – we'll call it the COPN glass for short).
Not that there was anything wrong with the Riedel Vinum Burgundy or pinot noir glasses. They do the job very well. In fact, I've never used a Riedel glass that I didn't enjoy tasting or drinking from. But if they want to persuade me that I need a cupboardful of COPN stems every time I serve a COPN they've got another thought coming. They are superb, a little on the fragile side, perhaps, but beautiful to handle and to drink from. But are they necessary?
Well, having sat in on a number of Riedel workshops over the years, I know from direct experience that when you line up a number of different Riedel stems, and pour the same wine in each, they all present the wine – especially the bouquet – slightly differently. Some shapes amplify certain characteristics; some de-emphasise the same characteristics. A lot of the choice-making comes down to personal preference. And as we know, that differs from person to person. That said, it is surprising how much agreement can be found among professional tasters on these matters.
With the COPN, as with all the shapes designed for a specific region's wine, Riedel invites winemakers and other people with expert knowledge of that particular wine to participate in the selection tastings. So the COPN would have had a strong input from the Central Otago winemakers. As a group, they would have come up with a shape that they reckoned presents their region's pinots as they want them presented. If you know the region's pinots, you might expect the winemakers to choose a glass shape that amplifies the bouquet and flavour, as the region's style is very expressive, full-blown, powerful. But, what if you are a pinot-lover who finds the Central Otago style too much of everything? I have a foot in that camp myself. You might prefer a glass that makes the wine smell and taste more subtle.
Perhaps Riedel's next adventure could be a range of choices for each regional varietal. Eg. A COPN 'Mozart' or a COPN 'Wagner'? Just a thought.
Price: $59.95 for a box of two. Available from www.riedelglass.com.au/