Cloudy Bay Pinot and Duck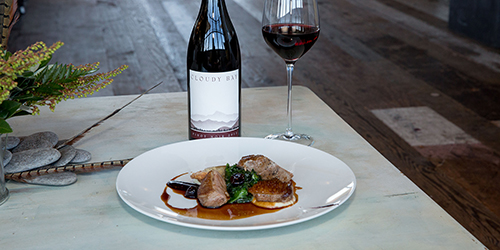 To promote the release of their 2013 Marlborough Pinot Noir – tastings (Cloudy Bay also produce a Central Otago Te Wahi Pinot Noir and a "cellar door only" limited edition Marlborough Mustang Pinot Noir) 'Cloudy Bay a Pinot Noir and Duck match' on the menu of 27 restaurants around the country, I asked winemaker Nick Lane a few questions about the wine and the food match.
Do you have a benchmark Pinot Noir style?
Interesting question. It is tempting to cite a single producer or region, but we like to take inspiration from many sources. We are currently looking at wines of all regions and styles that inspire us. That could be Barolo or Burgundy, Oregon or Beaujolais. Limiting it more strictly to Pinot noir, I am an admirer of the earthy, full-bodied styles from around Corton in Burgundy, and when done well the tension and elegance of Marlborough Pinot noir cannot be underestimated.
In style terms, how has your Pinot Noir evolved over the years?
Over the years as our vineyard locations have changed and vines have aged, our wines have become more structured. 10-15 years ago acidity played a greater role in the structure of the wine. Today the wines are supported by a riper tannic structure. We are also seeing more aromatic complexity in the wines as the vines have aged. The wines are undoubtedly better today.
This is a dirty question, but do you have a preference for your Marlborough or Central Otago Pinot Noir?
My preference very much depends on the year and I am happy to state my preference for any given vintage. Looking back over the last 6 vintages it's about 50/50 Marlborough/Central Otago.
Why Duck and how should it be prepared for best results?
Duck and Pinot are a natural combination. It's about "opposites attract". The gamey, earthiness of duck contrasts nicely with the berry, perfume of Pinot noir. Just as the acidity of Pinot Noir balances the fattiness of the bird. For me personally, confit is a classic. I like simple food.
Any suggestions about optimum drinking window for the latest releases
2013 Cloudy Bay Marlborough will be at its best in about 5 years. Right now I am enjoying the youthful, floral character of this wine. The 2012 Te Wahi will also start to reach it's apogee in about 5 years but with a more concentrated tannin structure it will age longer, up to 12 years.