Warming climate helps ripen Geelong shiraz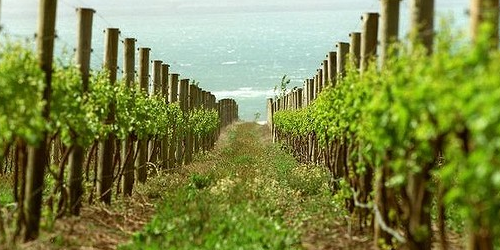 The Geelong wine region has just hosted its first-ever Winter Shiraz Weekend. Err, surely that should be pinot noir, not shiraz? Do they make much shiraz of note down that way? Well, actually they do make a lot of excellent shiraz. These days.
It wasn't always so. I suspect that 15 years ago the Geelong region would not have dreamt of hosting a wine celebration that highlighted shiraz.
But global warming has changed all that.
They now harvest shiraz grapes about a month earlier than they used to. Indeed, some winemakers say they are harvesting shiraz when they used to harvest pinot noir, which is known as a substantially earlier ripening variety.
Says Robin Brockett, chief winemaker at Scotchmans Hill (tastings) and one of the region's most experienced winemakers: "I've been making wine here for 27 years and there is four weeks difference."
He said other factors also contributed to the earlier harvest dates, such as vine-age: young vines take longer to ripen their crops, and the region's vines are more mature now. Other factors include changes in trellising – the Scott Henry trellis used to be more favoured than it is today – and yields are lower now as vignerons chase quality. Low yields mature sooner than high.
But the region's winemakers agree that higher average temperatures are the main factor. "The nights are not as cold during vintage as they used to be," says Brockett. This has helped advance the picking dates.
The effect is that Geelong shiraz ripens more consistently than it used to, and better wines are the result.
Geelong shirazes have carried off the trophy for the best shiraz at the National Wine Show of Australia in Canberra for the last two years. This show is supposed to be the best of the best, the climax of all the capital-city and regional wine shows, so it's an impressive achievement for a small region with a small area of vineyards and relatively few wineries – 40 at last count.
Last year's trophy went to Leura Park Estate Shiraz 2013 (tastings); the year before it was 2012 Terindah Estate Shiraz, both made from grapes grown on the Bellarine Peninsula.
Other winemakers have predicted that in the future, Geelong will be better known for shiraz than anything.
So, what does Geelong shiraz taste like? This is not easy to answer, because the wine region is really three separate districts, separated by some distance, each with its own climate and winestyles. The region is about 90km long and 60km wide. In the north is the Moorabool Valley, the warmest and driest part with the earliest harvest dates. In the east is the Bellarine Peninsula which juts into Port Phillip Bay on the opposite side to the Mornington Peninsula. There, harvest is about two weeks later than Moorabool. The third and most southern sub-region is the Surf Coast-Otway, where Dinny Goonan's vineyard (tastings) in the foothills of the Otway Ranges picks shiraz four weeks later than, for example, Barwon Ridge vineyard (tastings), which has a warm site in the Moorabool Valley.
The differences are more obvious in pinot noir, where the warmer, drier sites produce less pinoty pinots which can be a little dry-red-ish, lacking the refined fragrance that pinot lovers cherish. Dinny Goonan's wines – especially riesling and shiraz – are very fine and aromatic with clearly defined varietal characters. His 2014 riesling (tastings) is outstanding and 2013 shiraz (tastings) is one of the finest and most delicious I tasted on a recent tour of the region.
The other factor complicating the picture is altitude: this varies from 380 metres at Del Rios of Mt Anakie, to 160 metres at Scotchmans and 20 metres at Curlewis. To generalize, though, the region's shirazes are elegant, medium-bodied and spicy. Among the wines I tasted, the 'cool' extreme was represented by Leura Park Estate 2013 (tastings), which was delicate, fine-boned, very pepper-spicy and quite high-acid, while the more robust style was epitomized by Del Rios 2013 (tastings) and Saint Regis 2013 (tastings) (at Waurn Ponds).
My shopping list: Dinny Goonan (tastings), Brown Magpie (tastings), Terindah Estate (tastings), Clyde Park (tastings), Bellbrae Estate Bells (tastings), Baie (tastings), Austin's Spencer, Leura Park Estate (tastings), Del Rios (tastings), Saint Regis (tastings) (all 2013), Barwon Ridge 2014 (tastings) and Provenance 2012.
(NB: Bannockburn (tastings), By Farr (tastings) and Lethbridge (tastings) did not participate).
---
First published in Sydney Morning Herald, Good Food – 14 Jul 2015.