Four Pillars Gin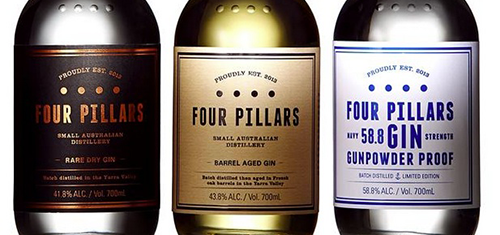 I ruffled the feathers of more than one gin producer recently by suggesting the current gin-obsession was largely about fashion. The noisiest of the three people behind Four Pillars Gin, Sydney publicist, wine guy and entertainer Stuart Gregor, rushed me a bottle of his finest, with the suggestion that I bring myself up to speed. He also sent some bottles of Fever-tree mixers, which his firm Liquid Ideas represents as the publicist.
Having done some cross-tasting exercises, involving other well-known gins, I'm able to see his point of view. I do enjoy some of the gins that the more gin-soaked probably frown upon, such as Bombay Sapphire, but Four Pillars Rare Dry Gin is much more "look at me" than common-or-garden gins. It is kind of the Marlborough sauvignon blanc of gins, it's so perfumed and pungently fragrant. In that, it has some similarity to the gin I initially wrote about on this blog, in mid-May, which was the Sydney-distilled Archie Rose Signature Dry (42% alc). Like Archie Rose, Four Pillars is high-strength (41.8%), and is highly flavoured with what smells like a wide array of botanicals. It's produced in the Yarra Valley.
There are nine botanicals, including fresh organic oranges, Tasmanian pepper, finger limes, lemon myrtle, and of course juniper berries. The base spirit is high-strength Australian wheat spirit purchased from a distiller at Bomaderry. This is then re-distilled in the Yarra Valley with the botanicals in Four Pillars' own Carl still, whose nickname is Wilma. It is cut back to bottling strength with Yarra Valley water, which the company describes as the world's cleanest. If it's taken out of the Yarra River, it's obviously done higher up than Melbourne.
The gin is delicious, and I love its extreme fragrance and its out-there personality. And yes, I concede, it goes beautifully with 2:1 Fever-tree tonic water and a couple of ice cubes.