The gift of Gaja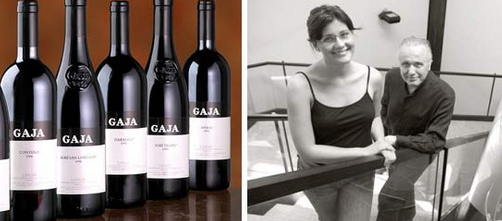 Gaia Gaja, daughter of the great Barbaresco producer and promoter Angelo Gaja (pictured), visited Australia recently and managed to jam more wines and words into a lunchtime event than I can recall witnessing for some time. I was flat-out tasting 14 wines, doing justice to a Steve Manfredi meal at Balla Ristorante, and concentrating at the same time on the information-packed talk Gaia gave for each bracket of wines. A pity, as these are great wines, and very expensive, and each one deserved to be lingered over. But then, there's a lot to say about Gaja wine (tastings).
We started with the best Italian chardonnay I've had for ages, possibly ever: Gaja Rossj Bass 2012 (fresh and bright as well as lovely and complex, but then it does cost $95 – tasting), and proceeded to three reds from the family's Bolgheri (Tuscany) property, Ca' Marcanda. These were followed by three 2008 Brunello di Montalcino from the family's property, Pieve di Santa Restituta. Much wow factor, and prices to match: peaking at $210 for the concentrated Sugarille (tasting).
Then the big guns. Piedmont. Nebbiolo. The regular Gaja Barbaresco now costs $300, thank you very much, and the 2011 (tasting) is very good. But the 2010 Costa Russi (tasting) and Sori Tildin (tasting) are $700 each. Despite the fame of the '10 vintage, my top scoring wines were the 2009 Sori San Lorenzo (tasting) and '09 Langhe Sperss (tasting) – the last a relative bargain at $340. There wasn't a wine that was less than superb, and the last two elicited words such as "great drama and power".
Critics love to diss Gaja for using too much oak, implying that the wines sacrifice typicity in favour of concentration, richness and density. I disagree. Gaja makes great wine, and he does have a style, a style many others have tried to emulate, but by no means all. There are many styles in Barolo and Barbaresco which are worthy. I find Gaja wines a shade less oaky than they have been in the past. I also find them to be great wines. And Gaia Gaja is a chip off the old block. She's inherited her dad's gift of the gab, and that's no criticism. They are Italians after all.